Fairbrook Medical Centre in Borehamwood, Hertfordshire, is using messages on prescription bags to encourage patients to attend the surgery's flu clinic, rather than going to their pharmacy or "private providers".
Deputy practice manager Michele Cain told C+D last week the surgery does not view the pharmacy service as "problematic", but stressed it is difficult when pharmacies do not tell the surgery they have given a flu jab.

"[Some pharmacists] don't include the batch number in the notifications we receive, so we are not updating a patient's records correctly," she said.
Orchard Court Surgery in Darlington, County Durham, has texted patients (pictured below) telling them not to go to their pharmacy for their flu jab. However, the surgery would not comment on the matter when approached by C+D.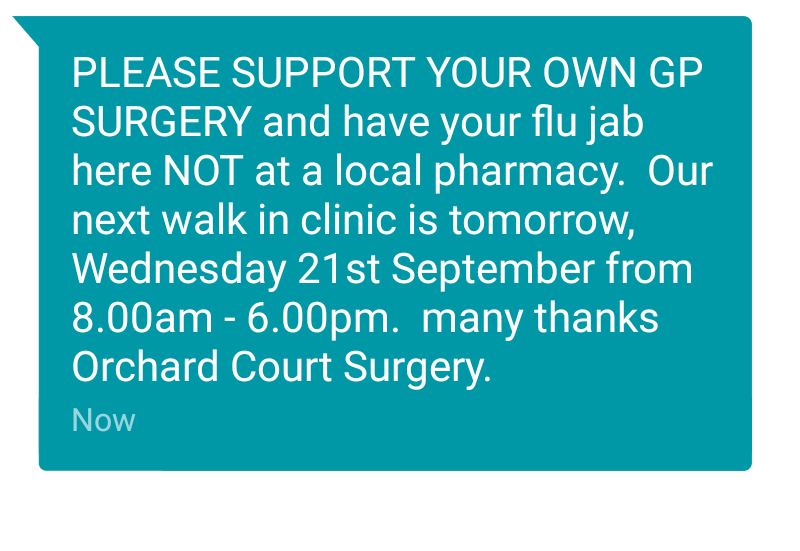 Priory Gardens GP surgery in Bedfordshire published a notice on their website – which has since been taken down – asking patients to "support your local surgery" and "decline the vaccination" offered at a pharmacy because vaccination fees are a "vital part of the services we provide".

C+D was unable to make contact with the surgery.
The flu "cash cow"
Simon Abrams, an Everton GP, told C+D last week the problem with the flu vaccination service is that it is a "cash cow" for GPs. Pharmacies are therefore perceived as "taking work away from us", he added.
However, Dr Abrams said pharmacy's flu role "makes sense" as it gives patients "better access" to the flu jab.
The National Pharmacy Association (NPA) said it has learned from the British Medical Association that "some GPs are not happy" about the pharmacy service.
Chief pharmacist Leyla Hannbeck told C+D last week the situation with GPs is "unfortunate", but stressed it comes down to patient choice.
"One thing that could help is if a pharmacy establishes a great relationship with the surgery and has regular catch ups," she said.
Meanwhile, a coalition of GPs has spoken out and defended comments made on Twitter deterring patients from other flu jab options.
The GP Survival group – which represents 5,800 members – is encouraging people to "support their GP surgery" by having their flu jab at their practice. It suggested "the lack of co-ordination" around flu services was adding to the pressure on general practice in "the current challenging climate".
In response to a question on the pharmacy flu service specifically, GP Survival interim chair Thomas Jones told C+D on Tuesday (October 5) that members have expressed flu "concerns on several fronts".