This free-to-download app – available since June 26, but officially launched yesterday (July 13) – replaces the National Institute for Health and Care Excellence's (Nice) BNF app. But there will be a grace period of a "few months" when the Nice version will continue to receive updates, to allow users to familiarise themselves with its replacement.
The app contains "the same content structure as the BNF print and web editions, and has been purpose-built for iOS and Android platforms", according to its publishers, the British Medical Association and the Royal Pharmaceutical Society.
It will be updated monthly with the latest BNF content, to ensure users are able to work with the most up-to-date information available. Once downloaded, the app allows users to search BNF content without an internet connection, the publishers pointed out.
Unlike the Nice app, it can be accessed without an NHS OpenAthens password.
C+D's clinical and CPD editor Kristoffer Stewart has been trialling the app this week, and shares his first impressions below:
"Attractive and responsive"
When I first downloaded the app, I thought it was attractive, responsive and easy to use. Looks aside, I asked myself: what will I most likely be using it for? I concluded that when I work as a community pharmacist, there are several things I want the app to do, and used this to form the basis of my initial impressions.
Sourcing up-to-date information about a particular medicine
When you open the app, you are immediately faced with an 'A to Z' to help you locate a particular medicine. This is enhanced by a 'smart' search bar, which predicts your search so you don't need to spell out the entire word – which would be a pain if you wanted more information about, for example, bendroflumethiazide.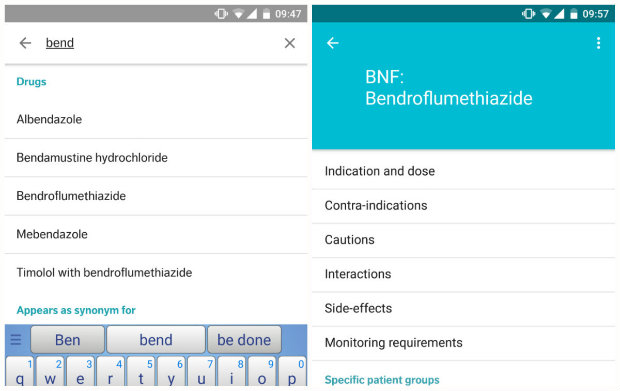 Once you have found your medicine, the app brings you to a page containing all the information in the drug monograph. This is broken down into sections – such as 'indications', 'side effects' and 'monitoring' – so you can quickly find the information you are looking for.
Understanding interactions
When a patient presents at the pharmacy with a prescription, it is necessary to check if the new medicine interacts with their existing regime. With the print BNF, this is typically a laborious job of flipping back and forward until I find the correct page.
However, when using the app's 'interaction checker', I was able to add several medicines at once to check their interactions. When you are finished, you simply click 'check interactions' and it takes you to a page with the interactions listed and explained – with potentially serious reactions highlighted.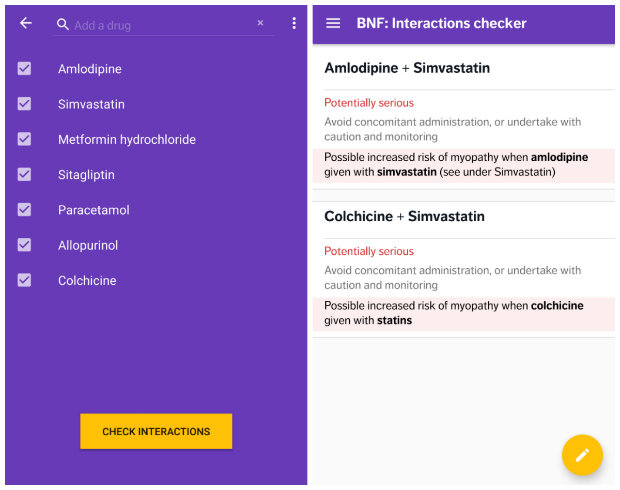 Familiarising myself with treatment summaries
I use treatment summaries if I want to find out or refresh my memory of how a particular condition is managed. In the app, treatment summaries are arranged by body system. For example, irritable bowel syndrome is found under 'gastro-intestinal system'.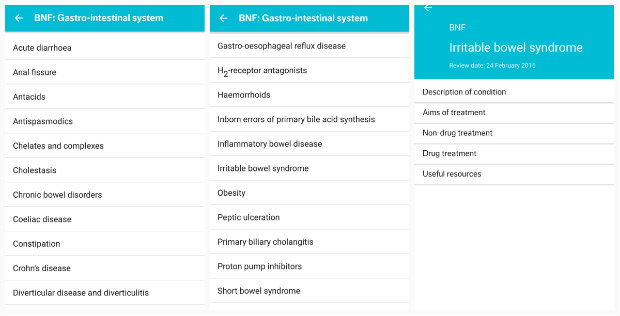 When you first open the 'treatment summaries' page, a long list of body systems will appear. However, you are still able to use the 'smart' search function to help narrow your options and find the content you are looking.
Final thoughts
Overall, I have thoroughly enjoyed using the app in the short time since I downloaded it, although there is one issue I have detected. Below are my takeaway points, and I hope that you will add your own in the comments section.
Positives:
Lists are now in bullet format, rather than the clunky list format seen in the print version. This makes it easier to, for example, identify side effects and how common they are
As internet isn't necessary to access content, you won't be hindered by a slow or non-existent WiFi connection in your pharmacy
Medicines can be looked up by brand. For example, if I search Durogesic, it informs me where it appears (under fentanyl).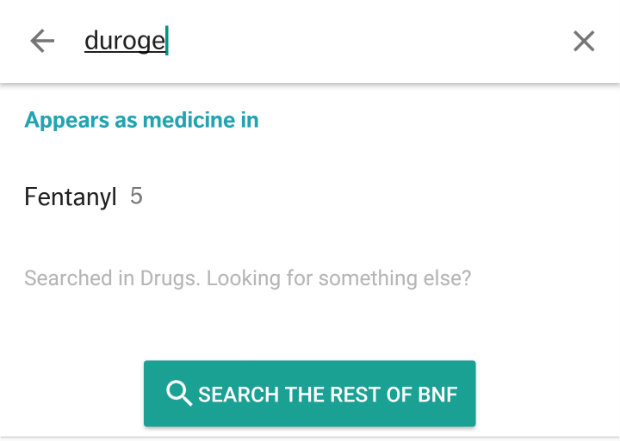 This might be an issue confined to my phone model – a Google Nexus 6P – but I have found that using my phone's 'return' button takes you out of the app, rather than back to the previous page. I'd be interested to hear from C+D readers if this is an isolated problem, or if a similar issue is experienced by other Android users.
Using the BNF app won't come easily to everyone at first. But I predict that with practice, it will become an app most pharmacists won't know how they lived without.
The app can be downloaded from the App Store and Google Play.
Watch Kristoffer's video demonstration of using the app below.
Your views
Some of you have already shared your thoughts on using the app on Twitter:
Its so helpful. I use it and the online version exclusively now. So much faster/ efficient

— Andy (@Darth_Roo) July 13, 2017
Looks and feels great! However is there a breadcrumb feature for hypernyms that previous versions had? Invaluable tool for use in practice! pic.twitter.com/oeuNbQHVrq

— Tom Kallis (@TK_MPharm) July 13, 2017
It's excellent - been using it today.

— Ross Ferguson (@rosshferguson) July 13, 2017