Responding to an audience question at the National Pharmacy Association (NPA) annual conference earlier this month (October 7), Mr Patel said claims that implementing a hub-and-spoke model improves efficiency are a "falsehood".
"[Pharmacy] dispenses prescriptions at a very low cost, and very efficiently," said Mr Patel, who also addressed claims that hub-and-spoke dispensing increases patient safety.
"It isn't any safer; actually it is a lot less safe [than traditional dispensing models]."
Mr Patel said Day Lewis has had a "single dispensary" serving 30 of its 300 branches "for about four years".
"The only opportunity we found in [using] hub-and-spoke was to relieve a little bit of pressure from the pharmacy team, to be able to engage patients and take a more clinical approach," he said.
A hub-and-spoke model can be "quite useful" if a pharmacy is struggling to manage its prescription volume, Mr Patel added.
"In those 30 pharmacies, we took on around 10% of their prescriptions," he explained. "If controlled, [hub-and-spoke] is an opportunity to free up people's time."
"Community of pharmacies"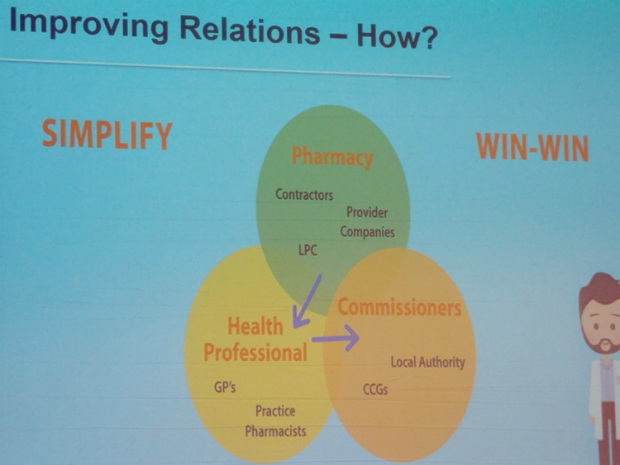 Mr Patel used his session at the NPA conference to stress the importance of building relationships among local healthcare providers and wider policy makers "for the survival of community pharmacy" (see slide above).
"If we don't get involved…your skills and expertise will be forgotten," he warned the audience.
However, "the first and most important relationships we need to build are within community pharmacy itself".
"We are a community of pharmacies. We need to have better knowledge of what is going on in community pharmacy in local areas."
Mr Patel said pharmacists should be asking themselves: "Who is doing the services? Who is the great medicines use review pharmacist? Who is doing all the flu vaccinations? And who do we need to support, because collectively we're only as good as our weakest."
The skills of "getting out in front" of people, building relationships and collaborating, is how Mr Patel learned to progress both within Day Lewis and outside of it, he added.