At least 17 PCTs in England either cut local pharmacy services or did not extend pilot schemes in the last financial year, a C+D investigation has found.
Forty one of the 104 PCTs responding to C+D reported that they had held conversations about the quality of enhanced services or about decommissioning them between April 2011 and March 2012. The most frequently discussed services were emergency hormonal contraception (EHC), followed by health checks and minor ailments schemes.
The 12 services decommissioned, some of them across several clustered PCTs, included health check schemes cut because of poor delivery levels and performance concerns and a minor ailments scheme that was also stopped beause of low contractor activity.
Low contractor activity was a key factor in many of the discussions, with several trusts citing low delivery levels as a reason for decommissioning

More on decommissioning

C+D interactive decommissioning map

Let's get real about commissioning

C+D Senate: A question of quality

In other cases services were stopped and put out to tender to other providers, or modified to reflect charity guidelines.

Low contractor activity was a key factor in many of the discussions, with several trusts citing low delivery levels as a reason for decommissioning.

Health checks across Birmingham were cut as a result of "low activity" and a failure of pharmacies to meet target activity levels written into the service specification, for example. The numbers were so small that the PCT cluster branded it "a breach of contract".
Responding to the figures, Independent Pharmacy Federation (IPF) chair Fin McCaul warned there were "two sides to every story", and said a lack of activity in delivering services at pharmacy level could be the result of insufficient PCT backing. "The reality is that to deliver outcomes, services often require more investment than PCTs are willing to give," he told C+D.
But the findings were a "reminder of the importance of collecting outcomes data and a lesson that this by itself may not always be enough to secure ongoing funding," said Pharmacy Voice chief executive Rob Darracott.
And PSNC head of NHS services Alastair Buxton warned things could get even more difficult. "Commissioners have a duty to say: 'Are we getting what we need?' And the robust approach to commissioning will only get more so," he explained.
Numark managing director John D'Arcy warned that PCT commissioners might be looking to tighten their purse strings given that the trusts were not going to be around for much longer. "You would expect PCTs to be pulling their horns in given what's coming," he said.
He called for more detail from PCTs where they had quality concerns. "When PCTs flag up quality concerns you don't always know what quality measures they are talking about," he told C+D. "It may be that nobody knows about the service: are these services being promoted sufficiently? Is there a plan at PCT level? Or has the PCT got a bit of spare cash lying around which it is basically throwing at enhanced services?"
Although several PCTs discussed specific concerns about the quality of community pharmacy services, several of them did stress their commitment to community pharmacy services.
In South West Essex health checks were decommissioned following issues around "performance, quality and value for money" but the trust expressed its commitment to finding a way to make the checks work in pharmacy.
And a minor ailments service in Heywood Middleton and Rochdale that was cut in September 2011 because it was unable to deliver value for money is expected to be reinstated later this year.
To find out what discussions were held and what the outcomes were, visit the interactive map at chemistanddruggist.co.uk/decommissioning and click on a PCT for more information.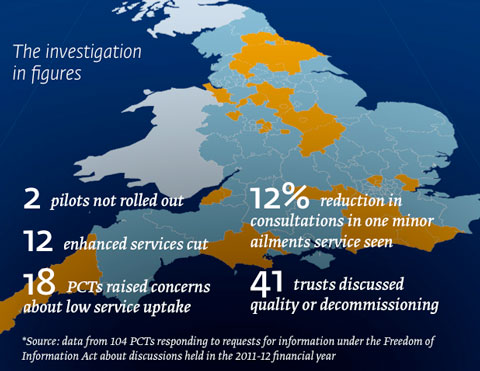 Your shout
"A lot of these services were probably set up in different times when the NHS wasn't as focused on outcomes. It's disappointing to see services being cut, but I also think it reflects this new environment." Fin McCaul, chair, Independent Pharmacy Federation "PCTs have a right and a duty to review performance [but] the NHS must not react to budget pressures by cutting back frontline investment in those services that have been able to demonstrate positive patient outcomes." Rob Darracott, chief executive, Pharmacy Voice "While there may be valid reasons why pharmacies are not providing services effectively, we need to ensure they are providing core services as well as they can because without that it will be hard to negotiate additions at a national level." Alastair Buxton, head of NHS services, PSNC