Yesterday (March 30), the Duchess of Cornwall officially opened the new Kamsons Pharmacy offices and warehouse in Uckfield, East Sussex, following a tour of the state-of-the-art distribution centre.
During the visit, the Duchess thanked the "the unsung frontline workers who have been working in pharmacies across the UK throughout the pandemic", Clarence House said. This includes "delivery drivers, warehouse and office staff, who have kept the warehouse, and therefore pharmacies, running".
The Duchess told the workers there: "May I thank you for the wonderful job you've done throughout the pandemic. I've been told by many people it's been difficult, but you've struggled through it and given a wonderful service to everybody."
The Duchess of Cornwall meeting Beth Deeprose-Haines, student pharmacy technician, Chloe Osbourne, a medicines counter assistant, and delivery driver Jim Horan (Credit: Kamsons Pharmacy/Samantha Pells)
Prior to the tour of the distribution centre, the Duchess was introduced to pharmacists, a medicines counter assistant, a delivery driver and a pharmacy technician student at Kamsons' Meads Medical Centre. She took an interest in the role frontline pharmacists and their teams played in serving local communities throughout the past year, the pharmacy explained.
"Weasel robots"
The Duchess was "enthralled" by the "Weasel" robots installed at Kamsons' new warehouse, which transport medicines across the floor, the pharmacy said. One even delivered a box of face masks to her during her visit.
Special delivery! @KamsonsPharmacy's new warehouse has moved from a manual to an automated system with the first installation of Weasel robots in the country. The Weasel robots move pharmaceutical drugs around the warehouse. pic.twitter.com/hp0Aj59YLp

— The Prince of Wales and The Duchess of Cornwall (@ClarenceHouse) March 30, 2021
The new distribution centre is the first in the UK to use this automated technology, Kamsons Pharmacy claimed.
"By moving from a manual-picking to an automated system, [it] has allowed the capacity of the warehouse to increase to delivering a million units of stock to the pharmacies each month," it added.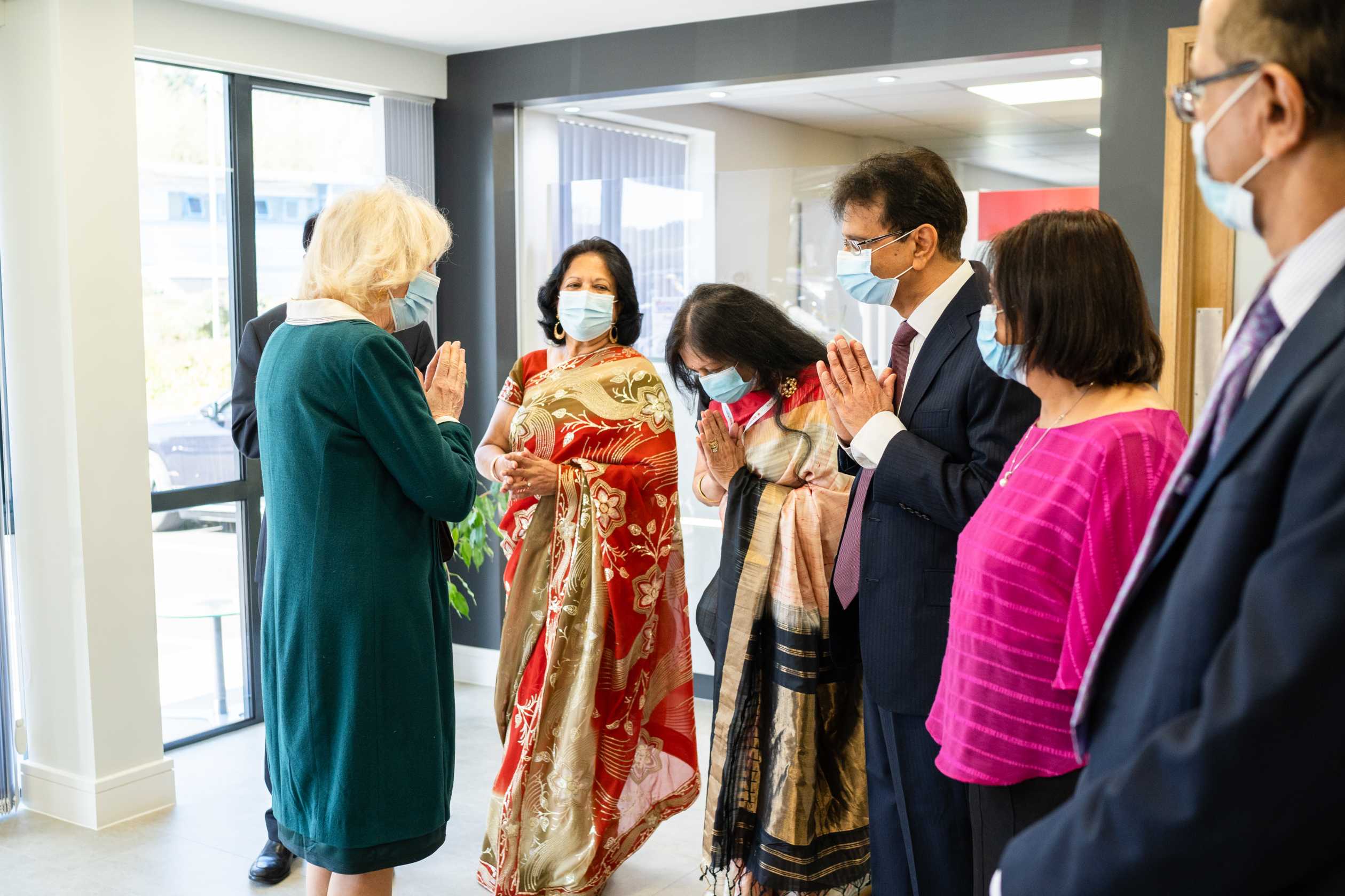 The Duchess meeting the Chotai family (Credit: Kamsons Pharmacy/Samantha Pells)
Graeme Nott, warehouse manager, explained that the building had been covered in 925 solar panels, which will be used to power some of the vehicles that deliver medicines.
During the visit, the Duchess met Kamsons directors Bipin and Bharat Chotai, who said that the Duchess had taken "a genuine interest in our staff" and that they were "delighted" that their contribution throughout the pandemic had been recognised.