"Some GP practices in the area have decided to manage repeat prescriptions [themselves], and prevent indirect ordering through... community pharmacies," Lisa Rogan, head of medicines management for NHS East Lancashire, told C+D last week (June 15).
According to a poster (below) produced by east Lancashire clinical commissioning group (CCG), this is to ensure "safe and responsible" issuing of medication and "prevent unnecessary medicine waste".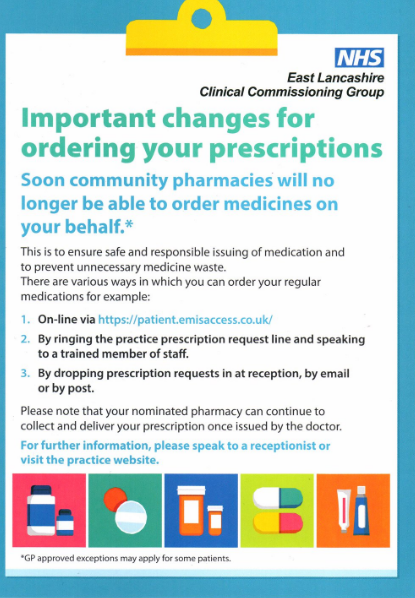 The CCG suggests that rather than order from their nominated pharmacy, patients order regular medication online, by ringing their GP practice prescription request line or by dropping prescription requests in at their GP's reception.
"The CCG supports [GPs] to do this as [this approach] has been found to improve efficiency, reduce the risk of errors and reduce waste," Ms Rogan told C+D. "It also provides an extra opportunity for contact between patients and their surgery."
Ms Rogan added that a "small number of patients" may continue to require support ordering their medication. "In such instances, their community pharmacy may be the most appropriate option."
"It has been agreed with pharmacies and the surgeries that in such instances, the surgery will continue to accept orders for these patients via the pharmacy," Ms Rogan added.
"Patients aren't happy with extra workload"
Andrew Grierson, pharmacist prescriber at Wyvern Pharmacy in Accrington, Lancashire, said it is "early days" to "really understand the impact" of the change.
"Patients have accepted it, but aren't happy with the extra workload," Mr Grierson told C+D. "We've helped some people who we know would have trouble remembering to order, by phoning or texting them every four weeks as a prompt."
Mr Grierson added: "Some GP surgeries have worked with us really well to use repeat dispensing, but there are some that don't intend to offer it."
"The main problem is this actually increases the number of medicines that are dispensed when not needed," Mr Grierson stressed. "If it's run right, repeat prescription schemes are efficient and can save money."
"The few [pharmacies] who over-order or who don't follow CCG guidance have tarred us all with the same brush," he said.
In October 2016, a C+D investigation revealed that almost four in 10 CCGs plan to scrap their pharmacy repeat dispensing schemes. Read the full investigation results here.