As part of feedback published in its annual Pre-registration Manual last Friday (August 4), the board of assessors advised the newest cohort of pre-reg trainees to "consider whether each answer is realistic and practical" when they come to sit the exam themselves.
The board gave examples of some of the "implausible" answers candidates wrote in the first of the June assessment's two papers, including calculating that "100 ampoules" of a medicine are required for an infusion for one patient; and suggesting a dose of "403mg every 12 hours" when the medicine in question is available as a 400mg tablet.
Unclear answers lose marks
Other areas where candidates did "less well" in paper one included questions about infusion rates– where they tended to "miss the information on the duration of the infusion" – as well as questions where "dose rounding" was required before calculating "total supply".
In paper two, one of the five areas where candidates also "performed less well" was questions testing the differences between an "adverse drug reaction and an allergy". Another was deciding when to refer a patient based on their symptoms, the board said.
In addition, some candidates "did not fill in the answer sheets clearly" (see image below), although "most" did. "Marks cannot be awarded if the answer is not clear," the board stressed.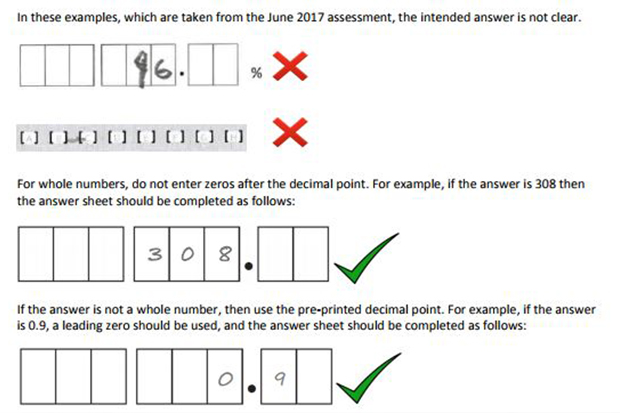 How the feedback works
The report comes after the GPhC received feedback from the British Pharmaceutical Students' Association (BPSA) in a meeting on July 11, based on 583 students who raised issues with the exam, including a lack of time and questions not representing the registration assessment framework.
The pass rate for the June assessment dropped 17 percentage points compared with the previous year.
The GPhC told C+D yesterday (August 7) it had published specific feedback on paper on of the exam after it was requested by the BPSA. The board of assessors will include the BPSA feedback in a separate report to its council in September, it added.
The regulator said its analysis of the June 2017 exam had not uncovered any significant issues, so next June's paper will be prepared in the same way as this year's.