Mr Justice Singh confirmed yesterday (April 11) that he will not permit the PDA's request for judicial review of the General Pharmaceutical Council's (GPhC) professional standards to proceed, and rejected all of the PDA's key arguments.
The PDA took issue with a line in the standards – due to come into effect in May – which state that they "need to be met [by pharmacists] at all times, not only during working hours".
Board games and Twitter "tirades"
However, following a High Court hearing in Birmingham last month (March 23), Mr Singh said the standards do not "extend the definition of misconduct to reach into trivial matters", as the PDA claimed. 
Pharmacists "will not need to lose sleep" if they are "not polite" to other people, such as "neighbours in a boundary dispute or members of their family over a board game at Christmas", he added.
However, Mr Singh stressed that there may be occasions outside of work that could impact patient care: "If a pharmacy professional engages in a racist tirade on Twitter – that may well shed light on how he or she might provide professional services to a person from an ethnic minority."
"[The standards] are intended to be helpful to illustrate what may or may not be appropriate conduct," he added.
"They need to be interpreted in a way that is rooted in real life and common sense."
"Frustrating" regulations
"One cannot legislate for all circumstances in advance," Mr Singh explained, which he admitted "may be frustrating" for anyone subject to regulation.
He stressed that "various professions" – not just pharmacy professionals – are required to uphold "the reputation of [their] profession" outside of work.
"The claimants themselves accept that there is a need for standards that provide that some out-of-work behaviour can be censured by the regulator," he added.
No breach of human rights
In reaction to the PDA's claims that pharmacists are "victims of the proposals", Mr Singh said that "it is impossible to say that the new standards are inherently and necessarily" in breach of a pharmacist's right to privacy and freedom of expression.
"The standards cannot lawfully be applied," and so pharmacists "need have no concern that their [human rights] could or would be breached by the implementation of the new standards", he concluded.
Mr Singh ultimately refused the judicial review application, stating that the GPhC council had "done nothing to exceed" its discretionary power when it had approved the new standards in November 2016.
Standards come into force in May
In light of the judge's decision, the GPhC said it will now "move forward" with the implementation of the standards, due to come into effect in May.
The regulator will shortly begin a "programme of communications and engagement with pharmacy professionals about the new standards", it added.
Having read the full judgment, senior healthcare lawyer David Reissner said the PDA's case had "crashed and burned".
PDA director of defence services Mark Pitt said despite the decision, the organisation is "satisfied with the outcome". Read the PDA's full reaction to the case here.
You can read the full judgment on the case here.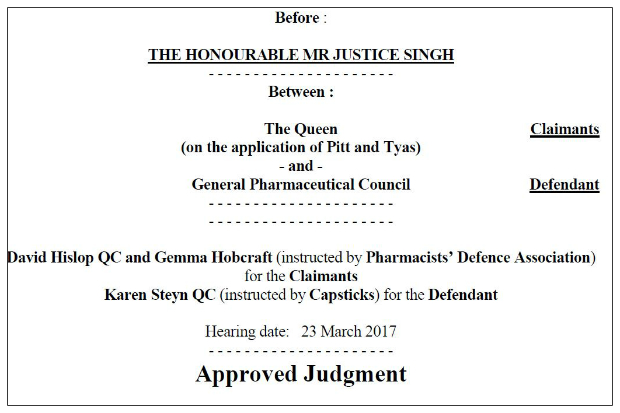 Result
Do you think the GPhC's new professional standards are reasonable?