Suffolk LPC chief executive Tania Farrow told C+D yesterday (February 7) that the two branches – at 62 High Street, Leiston, and in The Guineas Shopping Centre, Newmarket – closed at the end of January.
The pharmacies had "really dedicated and proactive teams who worked hard to support the needs of their customers", Ms Farrow said.
"I have real concerns about the sustainability of the community pharmacy network if some of the huge challenges that pharmacies are currently facing are not addressed quickly," she added.
End of an era! @LloydsPharmacy Leiston closed today. Health Champion Lisa Knights recently recieved our Community Hero Health Champion award for going above&beyond & her outstanding health campaigns. Good luck ladies in your future ventures @PSNCNews @CandDGrace #lovemypharmacy pic.twitter.com/ze3bqFyCWu

— Suffolk LPC (@SuffolkLPC) January 31, 2018
Closure on the Isle of Wight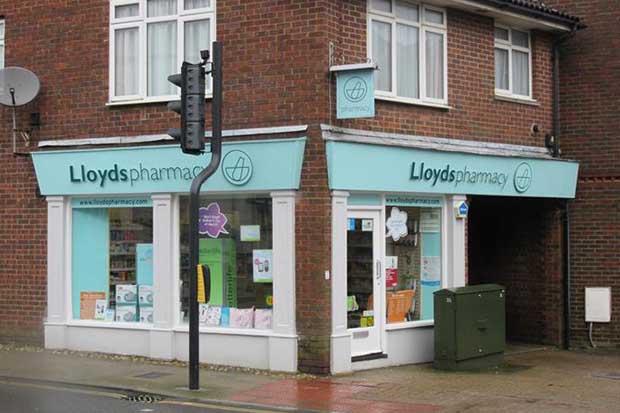 (Image credit: The Local Data Company)
C+D can also confirm that the Lloydspharmacy branch at 22E Carisbrooke Road in Newport, on the Isle of Wight (pictured above), closed last month.
The three pharmacies are part of the 190 "commercially unviable" Lloydspharmacy branches in England where parent company Celesio UK will cease trading. C+D has now confirmed the location of 32 of these pharmacies; the multiple would not confirm the remaining 158 branches.
Where else will Lloydspharmacy cease trading?
You can use C+D's map to view the location of each of the 32 Lloydspharmacy branches so far confirmed for closure or sale.
Branches confirmed for closure are marked in purple, while Lloydspharmacies up for sale are marked in blue. The branches that have been sold are marked in orange.
This map is live, and will be updated as C+D confirms the locations of further affected Lloydspharmacy branches.

Looking to buy or sell a pharmacy? Browse C+D Marketplace for the latest listings