EXCLUSIVE
Hourly locum rates are at their lowest in eight years, figures from C+D's Salary Survey 2016 have shown.
The average hourly locum rate is now £20.50, according to responses from 252 locum pharmacists who completed the survey, which ran between October 16 and December 21 last year.
This is a 35p drop in the average hourly locum rate compared with the Salary Survey 2015, when it was £20.85. It is also the lowest figure since 2008, when the average hourly rate was £24 (see graph, below).
"At the sharp end"
Pharmacy London chief executive Rekha Shah – who works as a locum part-time – told C+D she was unsurprised by the figures. "We have had locum rates dropping year on year for a while now and it's worse in certain parts of the country – London being one of them," she said.
Linda Yearsley, managing director and owner of agency Team Locum, told C+D that locums are always on the "sharp end of market forces" because the demand for locums only rarely outstrips their supply.
"I don't think any other health professional would accept a 20% salary decrease over a five-year period. [But] that's what certain locum pharmacists have been forced to face up to," Ms Yearsley said.
Locum pharmacist Perry Melnick said that, while he had not personally experienced a drop in rates, there was "a feeling" that rates were falling and it was difficult to negotiate them upwards. 
The graph below shows an overview of how locum rates have dropped over the years.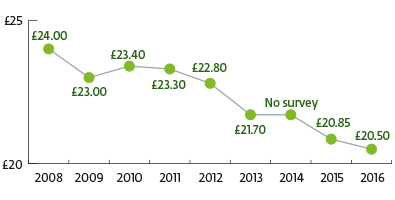 Tesco drops locum rates
Last month, Tesco wrote to its pharmacy managers to inform them the supermarket will decrease the rates it pays locum pharmacists from July, with rates due to drop by as much as £3.50 an hour in some areas.
Tesco told C+D it made the changes following a review, and remains committed to offering hourly rates that are "competitive within the industry".
Meanwhile, Well Pharmacy apologised to locums after one of its co-ordinators said in an email that the company had been "getting a lot of noise" from locums seeking to renegotiate their pay rates over the Eid festival.
Well chief operating officer Tim Davies told C+D that the content of the email "in no way represents the views and opinions of Well".
Watch C+D's video about what the locum pay drop means for the sector

Have you noticed a drop in locum rates?
We want to hear your views, but please express them in the spirit of a constructive, professional debate. For more information about what this means, please click here to see our community principles and information