Community pharmacists already "do a fantastic job", but will not be able to gain a wider role in the NHS "while they are under such pressure", Labour MP for Manchester Withington Jeff Smith told C+D at its joint parliamentary event with Pharmacist Support, on Monday (September 9).
Being a pharmacist is a "high pressured job" and the profession is "in a really difficult place" due to "uncertainty around Brexit and medicines", he said.
"We need to recognise that and try and put some measures in place to deal with it," Mr Smith stressed at the event, organised to raise awareness of pressures on pharmacy teams.
"Bearing the brunt"
Julie Cooper, Labour MP for Burnley, told C+D: "With escalating demand on the NHS, community pharmacists in particular are too often bearing the brunt."
Often they are having to deal with issues beyond their control, she added, using medicine shortages as an example.
"At the same time, pharmacists are offering to provide extra services to help alleviate [pressure] on the NHS, but they seem to be coming up against a brick wall," Ms Cooper said.
"The government doesn't appreciate that pharmacists are highly qualified healthcare professionals."
There are many potential gains for patients and the NHS if pharmacists were supported to provide more services and "properly remunerated for doing so", she added, "and it saddens me this isn't happening".
C+D takes pharmacy pressures to parliament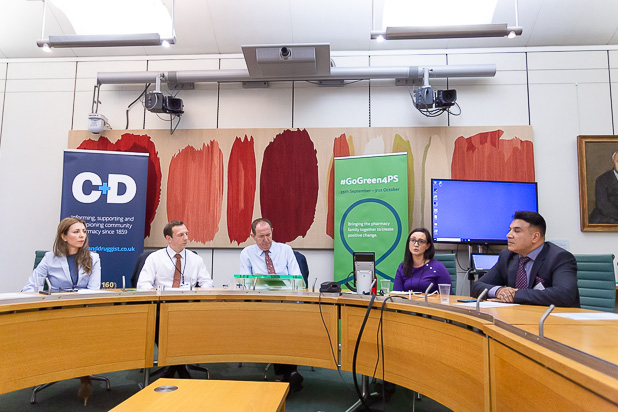 On Monday (September 9), C+D and the charity Pharmacist Support brought together MPs, pharmacy representatives and pharmacists to discuss the rise of stress and workplace pressures among pharmacy teams.
The parliamentary event took place in Portcullis House, Westminster, and was hosted by all-party pharmacy group chair Sir Kevin Barron MP.
You can read C+D editor James Waldron's address to the event – in which he highlighted disturbing data from C+D readers about the extent of pressures in pharmacies – as well as the key points from each speaker.
If you would like to share your experiences, please email [email protected]