EXCLUSIVE
NHS England is "committed" to launching the national flu service earlier next year, a senior commissioner has pledged.
The commissioning body will hold discussions on preparations for next year's service in January and June 2016, with the service "up and running for September", said Kenny Gibson, head of immunisation at NHS England's London team.

PSNC said in July that it expected this year's service to launch at the start September, but NHS England only published the final documents contractors needed to start the scheme on September 16.
A third of 116 respondents to a poll, posted on the C+D website September 17-22, said earlier publication of the documents was the "one change" that would have most improved their preparation for the scheme (see graph below).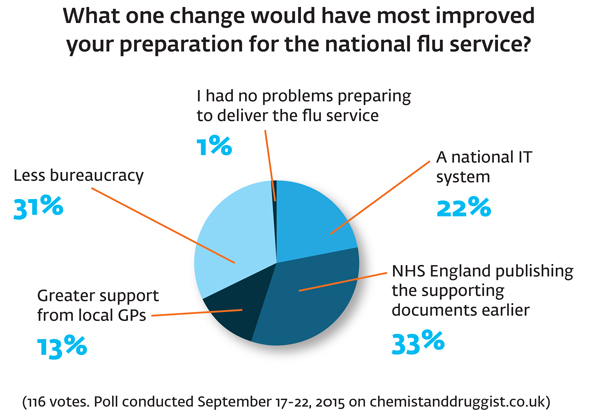 Mr Gibson defended NHS England's late release of the paperwork at a C+D webinar on the service, sponsored by Actavis, last week (September 30). 

Taking time to publish the documents had ensured that both the public and contractors had "confidence" in the new service, he said.
"Delays are often caused because a new delivery model can take up to 12 weeks [to get] through the governance systems. This time it's taken us eight weeks to get paperwork ready," he said.
C+D reported last month that pharmacists had sought training to help complete the declaration of competence necessary to deliver the service, and Mr Gibson stressed this document is "standard practice when we're trying to get increased capacity [for] a clinical service".

Completing the declaration now will make it "simpler" for pharmacists when they complete others in the future, he said. "It's the modern way that professional practitioners work," he added.

How did delays to the start of the flu service affect your patients?
We want to hear your views, but please express them in the spirit of a constructive, professional debate. For more information about what this means, please click here to see our community principles and information
Following the launched of the service, pharmacists rushed to sign up for help to complete their declaration of at Centre for Pharmacy Postgraduate Education (CPPE) workshops.