According to Community Pharmacy Northern Ireland (CPNI), pharmacies in the country have seen a "high demand" for the vaccine since the rollout began six weeks ago, with many running out of their supply within the first two weeks of the service.
The rollout of the vaccination programme to community pharmacies – revealed by Northern Ireland's chief pharmaceutical officer Cathy Harrison at the start of March, and which represents a large proportion of the 531 pharmacies in the country – was possible through a boost in the supply of the Oxford/AstraZeneca jab, head of the vaccination programme Patricia Donnelly explained at the time.
CPNI reported today (May 6) that current stock of the vaccine is low, but pharmacists hope to see a greater supply in coming weeks to meet demand.
"Bringing community pharmacy into the COVID-19 vaccination programme has vastly improved access to the vaccine on the high streets of our towns, cities, and villages throughout Northern Ireland," said CPNI chief executive Gerard Greene.
"Patients have had the option to receive their vaccine from a convenient and familiar healthcare professional, that they know and trust."
"Once [vaccine] supply improves, we expect numbers to grow further and are engaging with the Department of Health to ensure a greater amount of vaccine is supplied to community pharmacies," he continued.
Health minister praises community pharmacy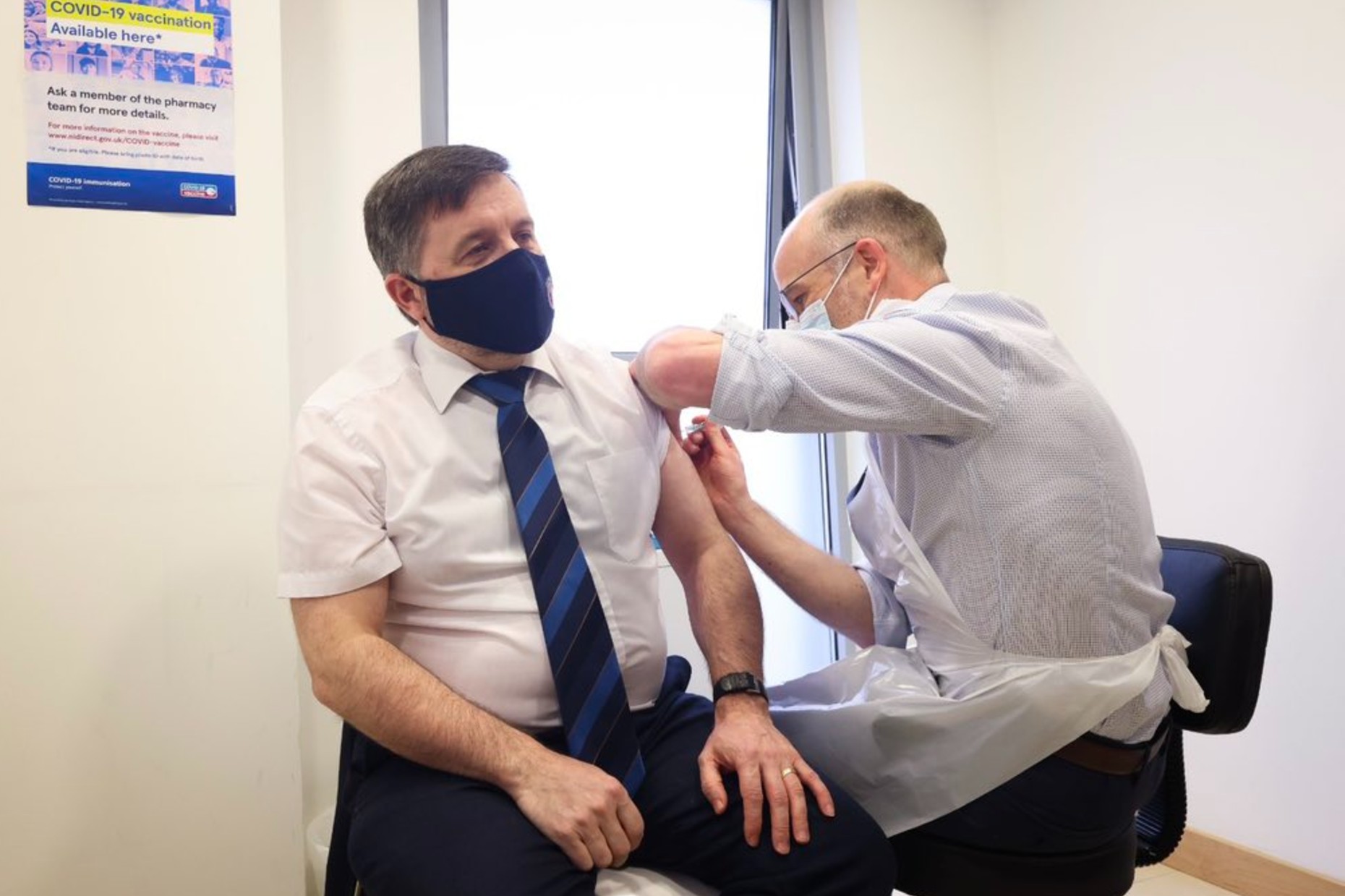 Health minister Robin Swann receiving his first dose of the COVID-19 vaccine from Stephen Burns, community pharmacist at Ballee Pharmacy, Ballymena.
In a ringing endorsement of the sector, in the first week of the vaccine rollout, both the Northern Ireland health minister Robin Swann (pictured above) and Ms Harrison received their first dose of the COVID-19 vaccine at community pharmacies.
Mr Swann announced on March 31 that he was "delighted" to have received the Oxford/AstraZeneca jab at Ballee Pharmacy in Ballymena.
Upon receiving the vaccine, he said: "I would just like to thank our community pharmacy colleagues for stepping up and joining the other vaccination teams in the regional vaccination centres and our GP practices, because this is very much a joint effort as to how we come out of the current restrictions that we're in."
Three days earlier, Ms Harrison received her COVID vaccine from Mark Timoney, Northern Ireland's former chief pharmaceutical officer, at his pharmacy in Lambeg.
"Community pharmacies have played a vital role throughout the pandemic and will continue to do so as they join the vaccination rollout programme," she said at the time.
"Over the course of the past year, the general public has come to rely on community pharmacists more than ever before due to their accessibility and the addition of this new service will greatly benefit the people of Northern Ireland."
Are you or your pharmacy involved in the COVID-19 vaccination programme? Let C+D know and share your experiences with fellow pharmacists and staff on the C+D Community. Register for free, or access the site via LinkedIn.