Last week (August 15), a C+D investigation exclusively revealed the extent and severity of crimes that pharmacists and their staff are facing throughout the UK. Across the 35 police authorities that provided data, there were 291 cases of violent crime – including arson – in pharmacies in 2016.
Commenting on C+D's findings, PDA Union national officer Paul Day said a "key negative factor" influencing violent crimes in pharmacies "must be the continued reduction in staff, which potentially leaves pharmacists vulnerable in the workplace".
The union is "aware of some robberies and threats of violence in pharmacies", and "continues to be very concerned about the safety of our members, their colleagues and the public in pharmacies", Mr Day told C+D.
"The PDA Union is always concerned by any unwillingness of employers to invest in security measures," he said. "CCTV, panic buttons and, where appropriate, even security guards, could be among improvements needed in these challenging times."
"The government could have a part to play in supporting pharmacies with such measures. But in the meantime, pharmacies have a responsibility to do all they can to ensure the safety of their employees, customers and the public."
Changes to police levels
"Like the rest of the public, our members see the reduction in police officer numbers, and the general changes to crime levels and types over recent years as a possible cause for the levels and severity of crime pharmacies are facing," Mr Day continued.
"However, we'd rather talk about the steps that the pharmacy sector can do themselves and how pharmacists and staff can prioritise the prevention of crime, taking appropriate action where it does occur (see below)."
"So let's start that conversation."
Earlier this year, the PDA advised one pharmacist to close the pharmacy for the day following concerns that a lack of staff on the premises could impact patient safety.
The PDA's violent crime prevention policy
A zero-tolerance policy for violence towards staff working in a pharmacy, including verbal, sectarian or racist abuse directed towards pharmacists and pharmacy staff
A requirement for every pharmacy owner to undertake a risk assessment at individual premises level and publish a clearly defined statement on the risk of violence
Measures appropriate to the situation, as identified by a risk assessment, are implemented to reduce the risks of violence
Funding for security measures from the government to assist pharmacy contractors with their implementation
Regulatory standards which place more robust requirements on pharmacy owners, superintendents, chief pharmacists and managers to ensure the safety of staff.
Source: PDA, 'Stopping Violence in the Pharmacy', May 2017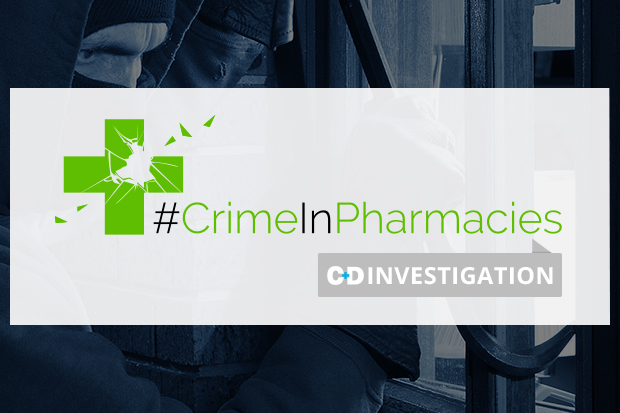 Find out the extent of pharmacy crime in your area by using C+D's interactive map.