There's "more stress in the workplace, there's no doubt about that", Rose Marie Parr told C+D after her keynote address at the Celtic Pharmacy Conference in Edinburgh last month (March 26).
However, new career opportunities, including in pharmacotherapy services and GP surgeries, are giving pharmacists "a bit more control of [their] destiny", which "makes all the difference", she added.
"Some of the best examples of people I have seen at their happiest has been when they have a portfolio career."
Ms Parr said having a portfolio career was not an option when she graduated. But "now you see people in community pharmacy doing two days in GP practice, two in community, and somewhere else, and it just feels a really good place to be", she said.
"If we get a work-life balance, [and] a bit of portfolio working, we get motivation from going to work, not demotivation," she added.
Scotland has "been really lucky", as multiples in particular have "jumped up" to accommodate portfolio careers, which "has been really helpful, because there are always barriers around employment", Ms Parr said.
Independent prescribing is "direction of travel"
She also wants to "continue the trajectory" of trying to "get more pharmacists [trained] as independent prescribers".
In May 2018, the Scottish government announced it would fund 50 independent prescribing places, as well as locum cover, while these pharmacists attend training.
Ms Parr told C+D that "pharmacists do have that absolute experience around medicines, so it's definitely the direction of travel".
"Many of them might have moved into pharmacotherapy [and] GP practice areas" instead of community pharmacy, but "we need them in all three areas", she stressed.
Pharmacy technician worries
Some parts of the Scottish government workforce plan are "still to come out", Ms Parr said. But "my worry is also around pharmacy technicians and support staff".
"How can we have a better framework for them, both [in terms of] numbers and capability?" she told C+D.
"There's something about the skill mix that isn't quite right, but needs to be adapted as we go forward," Ms Parr added.
What is C+D doing about pharmacy stress?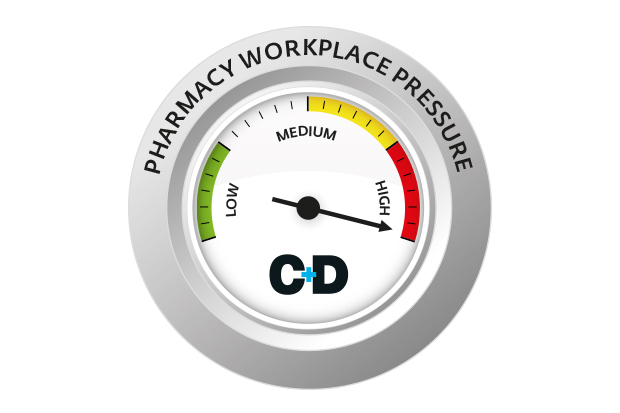 C+D created a briefing document, which was passed to England's chief pharmaceutical officer Keith Ridge by the RPS to persuade him of the damage stress is causing to community pharmacy. Download it, and read C+D's in-depth coverage of the data.
Let C+D know about your own experiences of stress by emailing [email protected]. Please state if you prefer your comments to remain anonymous.
For support and advice on mental health and wellbeing, visit the Pharmacist Support website here. For specific stress and wellbeing support, contact the charity's 'Listening Friends' scheme here.