Sikh charity NishkamSWAT and London-based charity The Connection at St Martin's jointly launched a vaccination initiative for the homeless, in partnership with the NHS. 
They ran two vaccination clinics last week and one on Monday (April 26), outside the Zimbabwean Embassy in central London.
Volunteering alongside a dentist, a GP and a clinical director were Gurinder Singh, a community pharmacist and lecturer at the University of Reading, and Captain Dal Singh Virdee, an army pharmacist who runs the healthcare arm of NishkamSWAT.
Following the success of the first clinics, the charities are now receiving requests from other local homeless organisations in east and west London to run similar pop-up sites. In partnership with Westminster City Council, the charities hope to run second-dose clinics in the borough in June, according to Mr Singh.
"We need to treat this healthcare crisis as a global problem," Mr Singh told C+D. "Not just in the UK, not just in Swindon. Everyone offered the vaccine needs to take it up."
Mr Singh (pictured below) – who translated an NHS video on the test and trace programme into Punjabi for the Department of Health and Social Care last year – explained that it had been "very rewarding seeing those smiles on patients as we vaccinate them".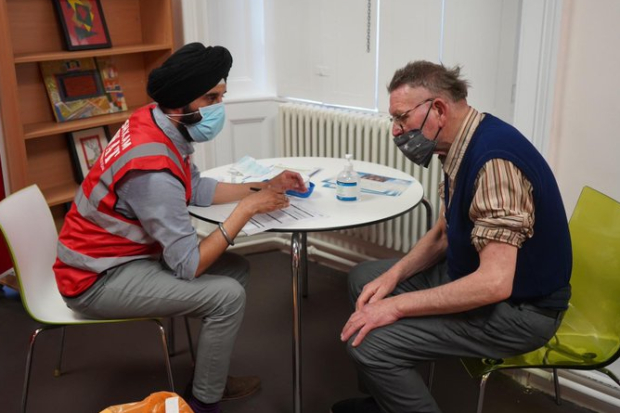 "COVID does not discriminate and neither should we if we all want to return to some kind of normality in the near future," he added.
"Everyone should have the right to a vaccine"
Randeep Lall, CEO of NishkamSWAT said: "We knew something had to be done as a matter of urgency."
"Those who are homeless are much more likely to have physical or mental health conditions, which put them at a higher risk from the harms of COVID-19," he added.
Noting that this lack of protection could pose a "danger" to the wider community, Mr Lall added: "Regardless of [their] legal status, everyone should have the right to a vaccine."
The Joint Committee on Vaccination and Immunisation advised last month (March 11) that adults who are homeless should be given the same level of priority as those in cohort 6 of the vaccination programme.
Asked about the mix of healthcare professionals who had taken part in the vaccination project, Mr Singh remarked: "Healthcare is now more about collaborating and a project like this has showed pharmacists at the forefront, engaging in public health agenda and improving local communities."
The charities are encouraging vaccinators who might be interested in helping during the clinics to get in touch.