Almost a third (31%) of 107 community pharmacist respondents to the poll – which C+D ran between August and September 2018 – said they had submitted a report to the Medicines and Healthcare products Regulatory Agency's (MHRA) yellow card scheme within the past year.
This report rate is higher than MHRA figures suggest – the watchdog told C+D that it received a total of 1,583 yellow card reports from the UK's community pharmacists in 2017.
In contrast, 29% of respondents to C+D's poll said they have never submitted a report to the yellow card scheme, while 17% said they last submitted a report "more than five years ago".
Of the remainder, 14% said they had submitted a report in the past two years, and 9% between two and five years ago.
Reasons for not submitting reports
The most common reason pharmacists cited for never or rarely submitting a report was "workplace pressures", followed closely by having "not identified any reactions".
Below this was "lack of knowledge of what should be reported" and being "unsure how to report". One pharmacist responding to the survey suggested that "the form was complicated" and had prevented them from completing the entry.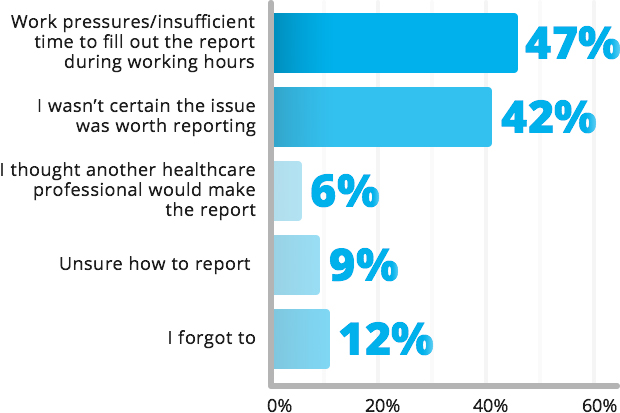 Note: Pharmacists were able to select multiple responses to this question
The yellow card scheme was set up in 1964 to detect suspected adverse drug reactions to medicines, in response to the thalidomide tragedy. It is now overseen by the MHRA.
Forty seven per cent of pharmacist respondents who identified an adverse drug or device reaction, but did not make a yellow card report, said they had not had sufficient time during working hours to complete the report. Meanwhile, 42% said they were not sure if an issue they had identified warranted reporting.
Problem areas with reporting
While 45% of respondents said they feel confident reporting "on all relevant reactions" via the yellow card scheme, the remainder cited a number of areas where they were not confident to flag an issue (see graph below).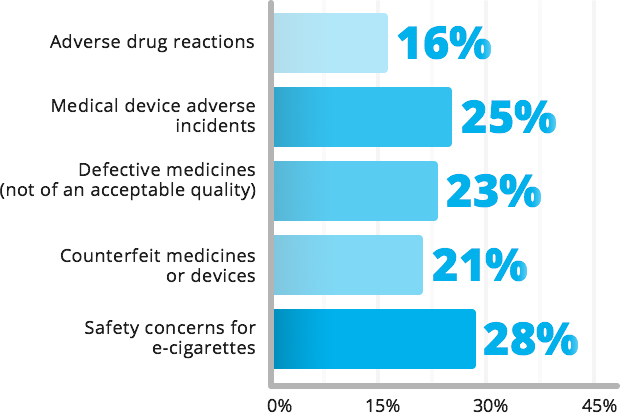 Note: Pharmacists were able to select multiple responses to this question 
Commenting on C+D's findings, Well superintendent Janice Perkins – who is also chair of the Community Pharmacy Patient Safety Group – told C+D yellow card reporting is often less common in community pharmacy because patients are more likely to refer back to their GP or hospital when they experience an adverse drug reaction.
Some pharmacy head offices may also submit yellow card reports on their branches' behalf, she added.
While there may be some confusion about what to report via the scheme, even reports that seem insignificant help the MHRA to monitor the safety of medicines and devices, Ms Perkins stressed.
Pharmacists should "complete your yellow card report irrespective of whether the medicine or device in question was purchased at your pharmacy", she added.
The new medicine service and medicines use reviews provide a "great opportunity" for pharmacists to pick up on patients' concerns and report them to the MHRA, Ms Perkins added.
Read C+D's in-depth analysis of community pharmacy's role in the MHRA's yellow card scheme.