Last Friday (December 14), the High Court dismissed Pharmacy2U's attempt to obtain the names, addresses and contact details of all National Pharmacy Association (NPA) members. The company alleged that a NPA leaflet and poster (see below), distributed to members from November 2017 onwards, had damaged the company's reputation.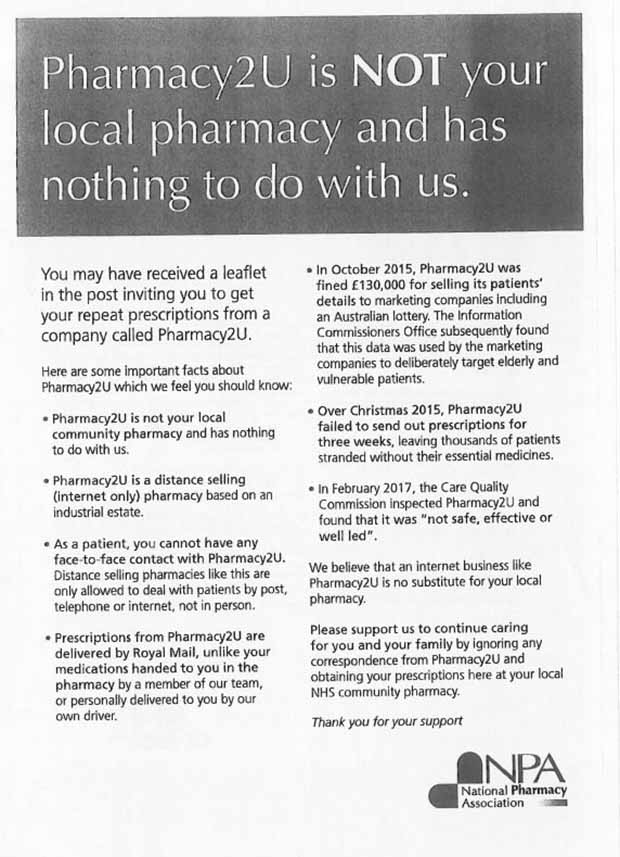 Ian Strachan, who was NPA chair when the posters were sent out, told C+D that the online pharmacy "wrote to me just before Christmas [2017], threatening [to] refer me to the General Pharmaceutical Council and sue for defamation".
"I believe they wrote to me personally, rather than the NPA, because they thought they would have better luck threatening an individual, rather than an organisation."
Mr Strachan told C+D it had been "my decision to issue" the materials. "I knew these were all absolutely true statements, and I felt strongly about the need to inform patients and to defend our members against Pharmacy2U's tactics."
He instructed the NPA's solicitors to "fight Pharmacy2U every step of the way", he told C+D. "Within weeks, Pharmacy2U had to accept everything in the notice was true and they couldn't sue for defamation."
Mr Strachan's version of events matches the High Court judgment. It describes how Pharmacy2U initially alleged the statements in the poster were untrue and "threatened claims for defamation and malicious falsehood", before withdrawing these claims after receiving a response from the NPA's solicitors.  
Pharmacy2U then switched its strategy to trying to obtain contact details of every NPA member, according to the court documents, with the aim of contacting individual pharmacies to allege that displaying the poster made the pharmacies "a wrongdoer".
"Harassing pharmacies would have been awful"
Commenting on the company's failed strategy, Mr Strachan said: "I didn't want to see any individual NPA members being harassed by Pharmacy2U – that would have been awful."
"My view was that it was certainly worth fighting to protect members," he said. "We didn't want members to be approached by Pharmacy2U.
"I acted as a witness for the NPA in defending [against] Pharmacy2U's claim. Although I am no longer NPA chairman, I felt I was the right person to do that."
This led Mr Strachan to work with the NPA's lawyers to draft a 53-page witness statement, he explained.
"I'm glad the court also recognised that Pharmacy2U wanted to threaten and intimidate individual pharmacists," Mr Strachan added, referring to the High Court judge's comments about the "serious risk" that the company would have "pick[ed] off" pharmacies if it had been given their contact details.
Pharmacy2U has not responded to C+D's repeated requests for comment.