Gabapentin and pregabalin continue to be among the most commonly confused medicines in pharmacies, Leyla Hannbeck's revealed in her latest MSO report last week (April 25).
However, she expects to see a reduction in the number of errors involving these drugs following their reclassification as class C controlled substances from last month.
"The reclassification will deter prescribers [from] issuing prescriptions due to more stringent regulations, hence less prescriptions may potentially be supplied," she told C+D yesterday (April 30).
"Similarly, all gabapentin and pregabalin prescriptions will be subject to prescription writing requirements and prescriptions would be valid for 28 days, which will allow for more vigorous checks to be made, leading to less dispensing errors," Ms Hannbeck explained.
'Look-alike, sound-alike' errors accounted for 29% of all patient safety incidents reported to the National Pharmacy Association (NPA) in the first three months of 2019, she added in the report.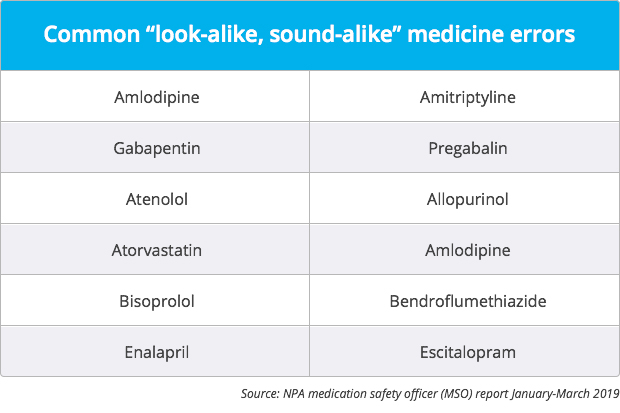 Common "concerns"
Inhaler errors and incidents of delivery drivers not following standard operating procedures continue to be common concerns in MSO reports, Ms Hannbeck said.
In one incident, a patient's dog was taken to the vet after eating her week's dose of prednisolone 5mg tablets, which had been posted through the letterbox.
"Wrong formulations" accounted for 11% of all patient safety incidents, with the majority of reports involving "inhaler preparations being dispensed incorrectly in place of dry powder, breath actuated and/or nasal spray, and vice versa", according to the report.
Ms Hannbeck advised pharmacists and pharmacy staff to use the NPA's inhaler identification checker to ensure the right device is dispensed.
Increase in prescribing errors
While 93% of incidents originated from the pharmacy, there was an increase in the number of reports of prescribing errors, accounting for 5% of all patient safety incidents, Ms Hannbeck said.
"Such errors have historically been underreported," Ms Hannbeck said, but show how "clinical checks made by pharmacists and their vigilance is preventing harm to patients".
In one incident of "wrong dose prescribing", a prescription originally for 18mg and 36mg Delmosart prolonged-release tablets, at a dosage instruction of once daily, was instead written as: "Take ONE tablet TWICE a day" on the dispensing label. This led the patient to experience hallucinations and being referred to hospital for further assessment, Ms Hannbeck explained.
Near misses
The majority of all incident reports – 53% – continue to involve no harm to the patient, while 34% were reported as "near misses".
Although the number of errors causing "moderate harm" to patients fell from 3% to 2% compared with the final three months of 2018, "all the incidents involved giving the wrong drug to patients who were then hospitalised", Ms Hannbeck added.
In one incident, a patient spent four weeks on amisulpride 200mg tablets instead of amiodarone 200mg tablets, and eventually ended up in hospital with arrhythmia.
Read a full copy of Ms Hannbeck's report for January-March 2019.
Read why medicines shortages could be contributing to error reports in pharmacies.