NHS England announced last month it is backing a 'test and treat' sore throat service in pharmacies – first piloted by Boots in 2014 – to relieve pressure on the NHS, free-up GP appointments and tackle antibiotic resistance.
During the pilot, patients paid £7.50 for a throat swab test and a further £10 if antibiotics were supplied. However, NHS England told C+D last month that "full plans" on how the scheme may work on a national scale – including how it will be funded – "have not been developed".
The scheme came under fire from the Pharmaceutical Services Negotiating Committee (PSNC) at the time as "no central funding is being made available to commission [the] service", a reservation that appears to be held by 70% of C+D readers.
Out of 141 respondents to a poll, conducted on the C+D website between November 25 and December 13, 98 said they would considering offering the service, "but only if it is properly funded".
More than a quarter (27%) would not offer the service – two-thirds of whom said it would increase staff pressure, while the remainder said it would "not benefit patients".
Just 3% of pharmacists said they would provide the scheme regardless of the cost, because "it would be a good addition to [their] current service offering".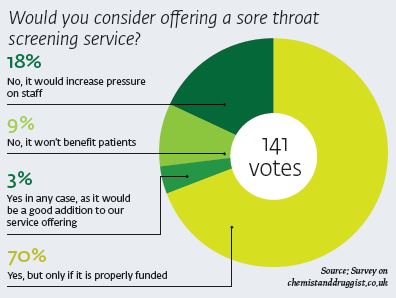 Clinical effectiveness must be shown
Kent contractor Amish Patel told C+D he would welcome the service if it was appropriately funded and managed, and was shown to be "clinically effective".
But Dorset contractor Mike Hewitson doubted whether the scheme goes far enough.
"Sore throats are but one condition. A wide [ranging] minor ailments scheme could deal with so much more," Mr Hewitson said last week.
For this scheme and similar services to work, "the NHS needs patients to change their behaviour", he added.