The society submitted recommendations for the foundation programme to the UK's four chief pharmaceutical officers at the end of January, RPS faculty chair Peter Kopelman told the chief pharmaceutical officer's conference in London earlier this month (March 15).
"I'm pleased to say we have the support of those chief pharmaceutical officers," he said.
Mr Kopelman told C+D at the conference that pharmacists at the beginning of their careers are "given a lot of responsibility, and they don't feel that they have the appropriate supervision and oversight that they would like".
"What they want to see is much greater clarity around their potential career framework and the pathways to achieving their ambitions, whether that be in hospital, community or general practice," he continued.
Addressing delegates, Mr Kopelman said: "Every newly-qualified pharmacist should be required to [do] a foundation programme."
"I realise that may be controversial, but if you're going to have safe and effective practice longer-term you need to have that structured training right at the outset of the career."
Pilot could begin in September 2019
The initiative would involve a two-year foundation programme with two annual reviews, which could inform a pharmacist's revalidation entries, Mr Kopelman explained.
The earliest the programme could be rolled out to pilot sites would be September 2019, he added.
View one of Mr Kopelman's conference slides below: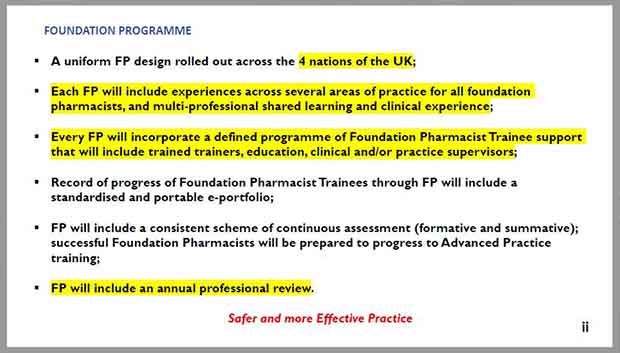 To monitor it, the RPS has proposed a postgraduate pharmacy training board involving itself, the General Pharmaceutical Council (GPhC), "NHS pharmacy education and training structures" and "employers", Mr Kopelman said.
"It is important for the large pharmacies – Boots and Lloydspharmacy [for example] – to be part of the process," he added. "The RPS will need to work with the small independent [pharmacy] community to see how we can engage and involve them."
At the conference, GPhC chief executive Duncan Rudkin said he had "lost count of the number of times relatively newly-qualified pharmacists have told me how disillusioned they have become very quickly following entry into community pharmacy practice".