Achieving "gender equality" at the RPS by 2020 will be "a key strategic goal", according to a draft charter – which the organisation will consult on before it is agreed – presented by English board members Nadia Bukhari and Mahendra Patel on Wednesday (June 27).
At the society's Women in Leadership event, the RPS proposed to measure its progress in equality in its future annual reports.
The society plans to "have strong and consistent visibility of women in pharmacy", ensuring "shortlists for decision-making at senior levels" include them, it said in its draft charter.
The charter also pledges to have "gender-balanced interview panels", as well as "flexible working arrangements" for male and female staff with children.
The RPS later told C+D that the draft is "very much in its infancy and continues to be work in progress. We will continue to explore this with others and encourage input and further feedback".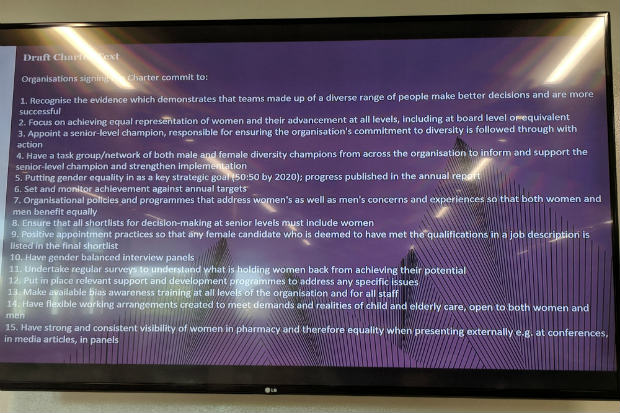 Women in pharmacy award
RPS deputy chief scientist Claire Thompson announced that the RPS will also launch two new awards to recognise the contribution of women in the profession.
The RPS will reveal details of the awards – for women in pharmacy and pharmaceutical sciences – at the International Pharmaceutical Federation (FIP) congress in Glasgow in September, and will announce the winners at an event on International Women's Day in March.
Deborah Evans, co-founder the Women in Leadership working group and managing director of Pharmacy Complete, told C+D: "[Now] more than ever, having diversity at senior levels [of the profession] is the right thing for pharmacy.
"We need both men and women to make this change, because it is the right thing to do."
C+D hosted a roundtable discussion on achieving gender equality in pharmacy in April and invited five female leaders from across the sector to join the debate. Listen to the full debate in C+D's podcast, and read highlights from the event here.