The 'transition programme pilot' – launched on January 15 – is designed to support pharmacists moving into the NHS 111 work environment in Wales, the RPS said.
After 100 days, the pilot will be evaluated and the RPS will consider using the model to train pharmacists for "other emerging roles", including in GP practices and urgent care centres, Lloyd Hambridge – a practice-based pharmacist involved in the service – told C+D.
Up to 40 pharmacists already participate in the Welsh NHS 111 scheme – an amalgamation of NHS Direct Wales and a GP out-of-hours service – which was originally piloted in Swansea, Neath Port Talbot, Bridgend and Carmarthenshire in 2015, Mr Hambridge confirmed to C+D yesterday (January 31).
As part of the new 'transition pilot', 10 pharmacists will receive training from five "experienced NHS 111 pharmacists" – including Mr Hambridge – in managing out-of-hours minor ailments calls from "clinical support hubs" in Swansea and Cwmbran, he said. Read what it is like to be a NHS 111 pharmacist below.
All pharmacists signed up to the pilot "will be provided with feedback on their practice in the workplace, given the opportunity to discuss their practice with peers, and will complete self-reflections", the RPS explained when launching the scheme.
The society has also launched an online network for the transition programme "to enable practitioners to share their experiences and learning", it said.
Alexandra Gibbons, professional lead for NHS 111 pharmacists in Wales, said the pilot "will provide a model for how we can not only provide assurance regarding a pharmacist's knowledge and capability to undertake the role, but also for us to start broadening the role even further".
What is it like to be a pharmacist working for the NHS 111 service in Wales?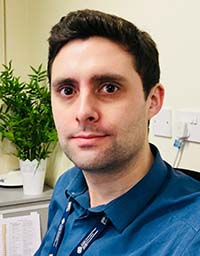 Lloyd Hambridge is typically known as a "cluster pharmacist", working across seven GP surgeries in the Caerphilly East borough.
He spends "approximately 20 hours" a month in contact with patients via the NHS 111 service, and this year has become one of five tutors to help train the 10 new pharmacists signed up to the RPS's 'transition programme pilot'.
Here he explains his role in the NHS 111 service:
We manage some repeat medication requests, either out-of-hours or during the weekend period, but the vast majority of our work is either medication queries or managing minor ailments; for example, urinary tract infections, tonsillitis, acute sore throats, some rashes – anything we can manage safely over the telephone.
After the call has been taken, the details are put on a system for myself, a GP or a nurse to identify what is clinically appropriate for us to manage.
There are usually three outcomes for the patients. [One is] advice only, with things like the common cold, how to self-manage, and sometimes you refer to a community pharmacy, for example. If something needs to be bought over-the-counter, or prescribed – for example, to treat a water infection – we would do a prescription over the phone, which would then be sent to the patient's chemist.
Sometimes when we're on the phone, the prescription the call handler has taken might not necessarily match what you have in front of you, and the patient then needs to be seen. In that case, the patient is directly booked for a face-to-face appointment in one of the out-of-hours treatment centres.
Of the calls handled by pharmacists, we're able to manage around 70% with either prescriptions or advice alone. You get paid by NHS 111 for any time you dedicate to the service.