With smoking-related diseases predicted to kill around half of all smokers in the UK, how can pharmacy help people kick the habit?
It can sometimes seem as though smoking is a problem of the past. From the Marlboro Man to Mad Men's Don Draper, cultural references would have us believe that a 20-a-day habit belongs solely to a bygone era.
 
But statistics released by anti-smoking charity Action on Smoking and Health this year show there are around 10 million adult smokers in Great Britain alone.
 
Around 100,000 people die from smoking-related diseases every year, with half of all regular cigarette smokers expected to die as a result of their addiction.
 
The problem is not just a physical one – there are fiscal implications, too. Household expenditure on tobacco in the UK has increased from £4.8 billion in 1980 to £18.7 billion in 2012, with the price of tobacco increasing 191 per cent more than retail prices during that time, according to the Health and Social Care Information Centre.
 
The NHS also spends billions each year on treating smoke-related illness.
 
But although the will may be there, smokers can testify it is never easy to kick the habit. So how can pharmacists help people beat their smoking addiction once and for all?
 
Ask the pharmacy team
The two branches of Monarch Pharmacy in Coventry are testament to the difference pharmacy teams can make in this area. Their smoking cessation services, run by dispenser Sue Ryder from the pharmacy's Radford branch and supervisor and accuracy checking technician Leanne Beverley from the Canley branch, help around 100 people in the region quit every year.
 
The pharmacy's friendly atmosphere makes it an ideal place to broach the subject, says Ms Beverley. The fact that pharmacists know patients by name makes it easy to strike up a conversation and bring up the sometimes "taboo" subject of smoking in a non-pressurised way, she says.
 
A patient's first appointment pinpoints their reasons for wanting to give up and usually takes between 45 minutes and an hour. This is a key part of the patient's experience, as it "plants the seed" of their decision to give up smoking, Ms Ryder says. Getting patients to open up and talk about their smoking habits can strengthen their resolve to quit, she adds.
 
Ms Beverley believes an important part of a patient's first session is finding out their reasons for wanting to give up and tailoring the conversation accordingly.
 
For example, if a patient wants to give up smoking to save money, the focus of the consultation would be on demonstrating how much money they could save if they were not buying cigarettes. If they want to give up for health reasons, Ms Beverley would emphasise all the health benefits of quitting.
 
Once these initial goals are set, it is important for the smoking cessation adviser to keep patients feeling motivated. This relies heavily on building a relationship with them, says Ms Ryder: "A lot of [the service] is behavioural support and learning how they're coping with it."
 
Three top tips for smoking cessation success
1. Form a connection with patients. The biggest thing Ms Ryder says she has learnt from offering the smoking cessation service is that it is important to build a rapport with patients, as this can build their confidence.
 
2. Don't be afraid to get it wrong. Sometimes you can improve your smoking cessation service by making a mistake, says Ms Ryder. "I have occasionally asked the wrong question," she admits. "It's all about open-ended questions and getting the customer to open up."
 
3. Lighten up. Ms Ryder likes to make her consultations "quite a bit of fun", she says. She will often use catch-phrases or sayings to grab the imagination of her patients. "Use your products and get your results, that's my motto," she says.
Individual approach
Ms Ryder has two pictures pinned up in her consultation room that were coloured in by the young daughters of a patient who accompanied their mother to a smoking cessation consultation during the summer holidays.
Putting in this kind of effort helps patients kick-start their smoking cessation efforts, she adds. "You'll see a difference in patients between when they come in to when they go out."
 
Although they may enter the consultation room feeling "fearful" and perhaps a little wary of the service, they often go "skipping out" once Ms Ryder has sat down with them and explained how she can help them achieve their goal.
 
A long-term relationship
It is this personal touch that makes pharmacy teams so effective in smoking cessation, Ms Beverley believes.
 
Unlike time-restricted GPs, she often has more capacity to offer patients one-to-one counselling – something that can make all the difference. "I don't think the patients feel as though they get that personalised service [with a GP] sometimes," she explains. "We're able to have a bit more of a conversation with the patient, go off and talk about other things and then bring them back to the conversation about stopping smoking."
 
Forming such close bonds with patients means Ms Beverley is able to keep track of how her patients are getting on in the long term. "I get patients coming in after three years saying they're still doing well," she explains.
References: 1. Action on Smoking and Health (2014) Smoking statistics, available from [October 2014] 2. Health and Social Care Information Centre (2013a) Statistics on smoking: England 2013, available from [ October 2014] 3. Health and Social Care Information Centre (2013b) Smoking, drinking and drug use among young people in England in 2013, Health and Social Care Information Centre, available from   [October 2014]
What products are on offer?
Nicorette offers many different products that are all designed to help smokers give up their habit for good. To achieve success in your smoking cessation service, try to ensure you stock up on a variety of stop-smoking aids to cater for the different needs of your patients.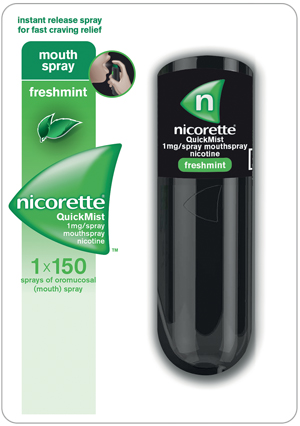 Nicorette Quickmist
Nicorette QuickMist is a fast-acting mouth spray that starts to alleviate nicotine cravings in 60 seconds, according to manufacturer McNeil. Perfect for busy quitters who are always on the go, the small dispenser is roughly the size of a small mobile phone and can be easily carried around.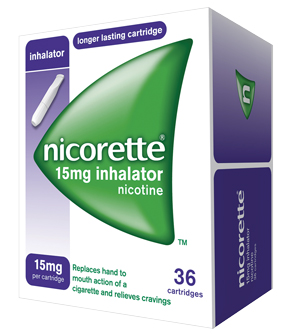 Nicorette Inhalator
NNicorette Inhalator can help patients who feel they will miss the hand-to-mouth action that smoking a cigarette offers. The product can be used whenever cravings strike, according to McNeil.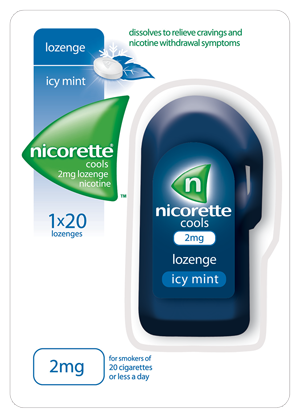 Nicorette Cool Lozenges
Nicorette Cool Lozenges gradually release nicotine to help tackle cravings as well as offering a cool mint taste. Patients can take up to 15 lozenges per day, and there's also a higher-strength option for those who smoke more than 20 cigarettes per day.




For Product Information click here