The Medicines and Healthcare products Regulatory Agency (MHRA) issued a recall yesterday (July 5) for all batches of valsartan-containing medicines made by Dexcel Pharma Ltd and Accord Healthcare following "emerging information" of an impurity identified in the manufacturing process, which "may have carcinogenic potential".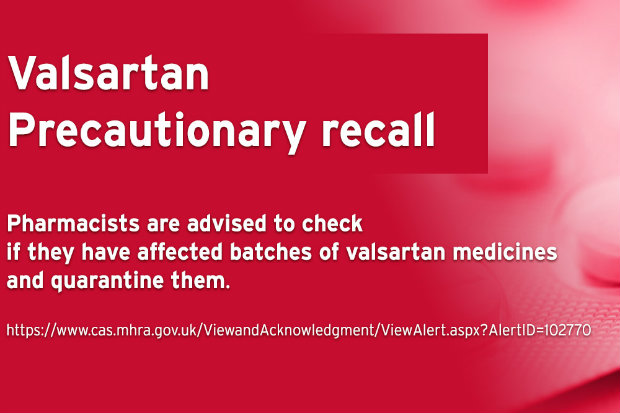 The impurity is due to a change in the manufacturing process at one facility in China that supplied the manufacturers with the active ingredient – used to treat high blood pressure and heart conditions – the watchdog said.
The European Medicines Agency (EMA) and other EU regulators are investigating the extent of the issue and the MHRA said it will continue to undertake an "urgent review" of the products.
Dr Sam Atkinson, MHRA director of the inspection, enforcement and standards division, said: "We will communicate the outcome of our investigations and ensure that the medicines [taken by patients] are safe."
PSNC's advice
The Pharmaceutical Services Negotiating Committee (PSNC) said batches are being recalled as a "precautionary measure" in an alert published on its website.
"Healthcare professionals and wholesalers are instructed to stop supplying the affected batches immediately and quarantine all remaining stock and return it to the supplier," PSNC added.
AAH: "Affected stock has been quarantined"
A spokesperson for Celesio – parent company of Lloydspharmacy and wholesaler AAH – has confirmed its pharmacies have removed the affected products, in line with MHRA advice.
Celesio also said that "the affected stock has been quarantined at all AAH wholesale sites".
Affected batches
Dexcel Pharma Ltd
Valsartan 40mg, 80mg and 160mg capsules
Accord (formerly Actavis)
Valsartan 40mg, 80mg, 160mg and 320mg film-coated tablets