As the year draws to a close, pharmacy leaders give their verdicts on the successes and disappointments of the past year. Neal Patel, head of corporate communications, RPS
Successes
● More than 1,000 pharmacists accessed the RPS faculty resources since its launch in June.
● The endorsement by NHS England of the RPS's principles of medicines optimisation and the ongoing adoption of the idea.
Failures
● Still no summary care record system available to community pharmacists.
● Not enough input from pharmacists to help tackle medication issues in care homes.

John D'Arcy, managing director, Numark
Successes
● A new medicine review service was launched in Northern Ireland and a two-year funding agreement was reached in Scotland.
● The GPhC regulatory regime gathered momentum throughout the year, with growing clarity on its approach to pharmacy regulation and fitness to practise.
Failures
● Still no contractual financial settlement in England and Wales.
● Pharmacists struggling to cope with increased prescription volumes and administration associated with locally commissioned services.  

Claire Ward, chief executive, IPF
Successes
● Some excellent collaboration to deliver the London flu service.
● We continue to see innovation in service delivery, but...
Failures
● …it remains the exception rather than the rule.
● Pharmacy still doesn't get the recognition it deserves from commissioners.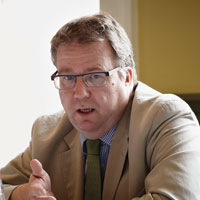 Rob Darracott, chief executive, Pharmacy Voice
Successes
● The launch of our Treat Yourself Better Without Antibiotics campaign, pointing people towards community pharmacies.
● Our second national audit revealed that day in, day out, community pharmacists raise questions of medicines safety to GPs.
Failures
● Further delays in the contract settlement in England.
● The modest extension to the New Medicines Service.
Check out C+D's interactive review of the year here.