I am a bit embarrassed to admit it, but I have never actually submitted a yellow card report. In fact, my lack of knowledge about what to submit prompted me to find out more about the process.
I spend my working hours at C+D, and locum on weekends, so I come across fewer adverse reactions compared with someone working 40+ hours a week in community pharmacy. However, I have come across issues in my practice and I often misunderstood what would warrant a yellow card report to the Medicines and Healthcare products Regulatory Agency (MHRA).
It's easy to think a serious complication like a death or hospitalisation linked to treatment will require reporting, but what if the complication is listed in the British National Formulary (BNF) as a side effect. What should I do then?
One example comes to mind – or rather it haunts me, because of my lack of action at the time.
I was locuming in a supermarket pharmacy, dispensing an antiepileptic medicine to a patient. Glancing at their medication record before handing them the medicine, I noticed the patient had been prescribed a plethora of antiepileptics in the past, and had only started this most recent one, levetiracetam, two months ago.
I called the patient's name and she came to the counter to collect her prescription.
"Hi," I said, "I noticed that this medicine is relatively new. Can I ask how you are getting on with it?"
The patient looked at me with some confusion. I'm not sure if this was because I was a locum she had never seen before or because nobody had actually asked her, but after a slight hesitation, she said: "To be honest, it's amazing! I've had problems in the past trying to control my epilepsy and this medicine has really helped my seizures."
I could see the patient was clearly pleased and this was infectious – I was smiling along with her. I asked if she had any issues with her medicine, but again she said no. Then her smile faltered.
"I'm not having seizures anymore, but I think I must be stressed – my hair has started to fall out. If it's not one thing, it's another," she joked.
At this point, a fleeting memory of a lecture I attended several years previously came back to me. I recalled that some antiepileptic medicines can cause hair loss. The patient noticed that my expression went from blissful ignorance to concern, and she asked me what was wrong.
I asked her to wait while I made my way into the dispensary to my phone and checked the 'literature' – ie the BNF app – for levetiracetam's side effects. There it was, listed as an 'uncommon' side effect: alopecia.
I went back out and explained what I had found to the patient. She became visibly distraught. She told me she was going to stop taking her levetiracetam immediately, which in turn gave me reason to pause. Although the side effects of certain antiepileptics may not have been at the forefront of my knowledge, I was well aware of the serious consequences of stopping antiepileptic therapy abruptly.
After some pleading on my part, she agreed to continue taking her levetiracetam until she spoke to her GP. I asked her to let the pharmacist know the outcome, and I made a note in her record of the suspected, adverse drug reaction.
But I didn't make a yellow card report at the time, because I thought alopecia was a recognised side effect and therefore didn't need reporting. However, what I've learned about yellow card reporting since then has led me to regret my decision.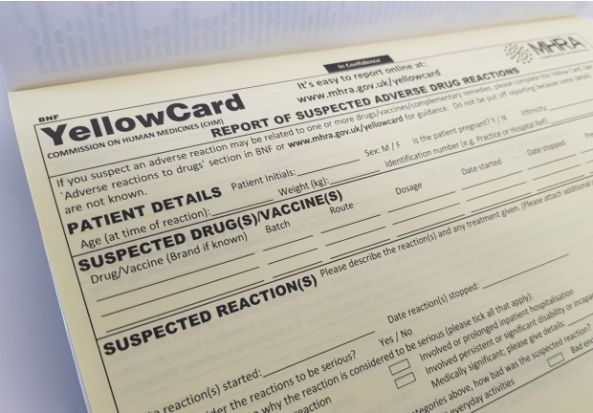 When making yellow card reports, it is our role as pharmacy professionals to add to the substantive evidence base for how common, or rare, side effects are. I now recognise this ­patient's reaction was a serious issue, due to its physical consequences (hair loss) and the fact they were considering immediately stopping their medicine, and would warrant reporting. However, reactions do not necessarily need to be this serious to require reporting to the MHRA.
Look at it this way: if one in 10 pharmacists came across alopecia as a side effect for this medicine, but none of them reported it, then the medicines watchdog may not reconsider the frequency of the issue. The more information the MHRA receives, through systems like yellow card reporting, the better informed the agency is to make its recommendations.
If you suspect an adverse drug reaction in your practice and are unsure whether it's worth reporting, I ask you – as someone who regrets their decision not to – to report it, because you don't know the difference you could make. If you are in doubt, I echo the MHRA's plea: "Please complete a yellow card."
On January 9, the MHRA announced its yellow card app had been updated to make it easier to use. It also has new features, including support for reporting a suspected reaction related to medicine exposure during pregnancy. The app is available to download free from iTunes or the Play Store.
Kristoffer Stewart is clinical editor of C+D, as well as a locum community pharmacist. Email him at [email protected], or contact him on Twitter @CandDKristoffer.