Is there a symbol of community pharmacy? A symbol is a sign understood by those who create, and those who witness. People should know what it means.
For example, the deerstalker hat symbolises brainy detective Sherlock Holmes. The author, Sir Arthur Conan Doyle, never specified it – the illustrator of one of his books first imagined it.
Symbols have a life span: invention, birth and death. They become stale and dated. For example, today, an eagle seldom symbolises the Greek god Zeus.
The Royal Pharmaceutical Society's (RPS) coat of arms from 1844 includes: a dove, signifying peace; an aloe plant, representing pharmacognosy; distillation equipment, symbolising the making of chemicals; and scales to symbolise weighing ingredients. The RPS didn't officially adopt the green cross symbol until 1984, to represent pharmacy across Great Britain.
However, I can't think of a symbol unique to community pharmacy today that nails what the sector is about. I searched Google Images, YouTube and the Wellcome Collection, with no luck.
Until 2005, the National Pharmacy Association (NPA) logo showed a fermenting container. Then, the organisation deemed it old fashioned, saying it was "a nostalgic icon from a bygone age". Split halves of a capsule replaced the container, (pictured below).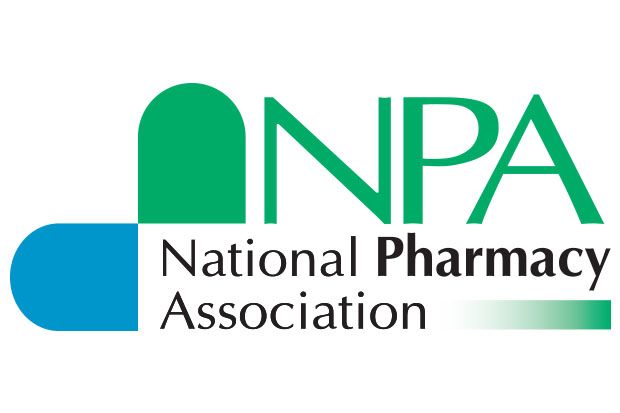 Pharmacies still often feature a mortar and pestle symbol, an ancient, internationally recognised image. However, cooks pound mortars and pestles too – more frequently than pharmacists these days – and on television. Therefore, perhaps in the public's perception, this is a symbol more representative of chefs up and down the country, rather than the pharmacy profession.
Vision is usually the most dominant of all our senses. It involves a third of our cerebral cortex. One image combining the community and pharmacy, a motif without words, which is unlimited by language, could confer instant public recognition. Witness the stethoscope for the medical practitioner.
Maybe a crocodile – the symbol of alchemy – would serve as a reminder of our access to the rarest and most exotic ingredients, or a unicorn's spiral horn with DNA's helix. Molecular engineering and computers could feature too.
Any symbol will have critics, but it could boost the presence of community pharmacy.
I have only considered what already exists and so is familiar. However, perhaps some reader or graphic designer who creates vibrant, memorable images could create some fresh icon to hook the public. A new hat, perhaps?
Over to you C+D readers.
Malcolm Brown is a sociologist and retired community, hospital and industrial pharmacist