It's not easy making decisions about your future career. When you studied pharmacy, you were probably too caught up with getting through each year and passing your exams to think much about life after university. After all, didn't you have an intermediate year as a pre-reg coming up, which would provide you with plenty of time to think about 'the future'?
However, when the pre-reg year actually started, you may well have been overwhelmed. You had just moved from a student life to that of a professional working full time hours – a struggle I sometimes feel I am still coming to terms with. Not only that, in your spare time you were preparing for the registration exam, which loomed at the back of your mind and caused more anxiety with each passing week.
For some, considering a career path only comes after you have finally qualified. This is where I found myself. I had trudged through the previous five years and was coming to the end of my pre-reg year, before I naturally asked myself: what next?
I decided that once I qualified as a fully fledged pill pusher, I would try my hand at locuming for a while, to find my feet and give me time to consider my options. With longer working days, working weeks lasting six or seven days and attempting – in vain – to maintain some sort of work-life balance, considering my career options was, once again, pushed to the back of my mind.
I am sure that many pharmacists went through a similar situation early in their career, before setting their eye on a particular path. However, when I have discussed this with my peers, the issue I have heard time and again is that we didn't know what options were available, or how one could move from one pharmacy career to another.
I struggled while making these choices, but the current cohort of newly qualified and pre-reg pharmacists have the opportunity to attend C+D's free careers evening. We have assembled a diverse array of speakers from across the spectrum of pharmacy sectors – including community pharmacies, hospitals, care homes, GP practices and academia – to provide a valuable insight into the range of options out there. Each speaker will be sharing their unique experience and advice both on stage, and with attendees while networking over complimentary food and drinks.
I know this would have been hugely beneficial for me when I was starting out in my pharmacy career. So, if you are – or know someone who is – interested in finding out more about the options available to pharmacists, then make sure to signup to attend. I look forward to seeing you there.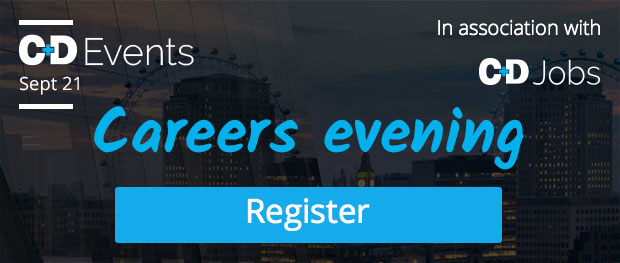 Kristoffer Stewart is CPD and clinical editor of C+D, as well as a locum community pharmacist. Email him at [email protected] or contact him on Twitter @CandDKristoffer