Pharmacists Kirit Patel (pictured right), Peter Cattee, Manvir Patel and Hiten Patel are heading overland from the UK to India by car and are two days into the trek across China




Day 34

This morning we found one of the tyres was a little flat but our vehicle fortunately has an inbuilt compressor to pump it up. Peter promptly went to work and within minutes we were mobile and it was my turn to drive.




There is minimal health and safety in China, especially when it comes to filling up rickshaws and scooters. The Chinese service station workers fill kettles with long spouts that the scooter and rickshaw drivers then carry to the edge of the gas station and fill up their tanks with. Even the road sweepers sweep dual carriageways with brooms while the traffic flows around them. 




Driving from Akesu to Kuqa – about 350km away – we encountered our first police roadblock. It it was a strange experience. Everyone crossing the district had to get out of their cars and walk to an airport-style channel. We all had to swipe our identity cards and a police officer compared the facial features with the details that had come up on screen. All of our passports were scanned and inputted on to a computer, this included our driving licences and Chinese car registration documents.




There is minimal health and safety in China, especially when it comes to filling up rickshaws and scooters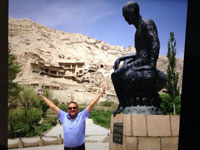 On the way we stopped at an amazing series of cave houses built by Buddhist monks in 500AD (pictured right). Most of the wall paintings were removed by the Germans in the 19th century, but there were enough left to show how artistic the monks were.
When we finally got the car back safely into the hotel car park in Kuqa, I commented to my three travel companions: "What a spotless bit of driving from me." Peter replied: "Yes, very much Kirit's style."  Manvir added:  "Yes, very thoughtless."
Yesterday, Manvir once again crossed a straight white line in the middle of the road straight into the path of an oncoming police car and yet once again got away with it. That was his third penalty point.
Today, everyone's mood was much better. Let's hope we have many more of these during the rest of our journey.
Day 35
During our stay in China, all hotels we have stayed in have given us breakfast vouchers on check-in. The rule is no voucher, no breakfast, which is quite a challenge for me, given my tendency to lose things! Also, I don't go to sleep until 2am, so I always wake up too late to catch breakfast. Our guide, Bing, prefers to take the accommodation money from us and find his own accommodation. From last night, I decided to give my breakfast vouchers to Bing. On the first day, he also missed his breakfast as he was out partying until 3am! 
Laundering our clothes has become an issue, given that we are not staying at any town for more than two days. Nalini had packed a bar of laundry soap for me, so it looks like I may have to use it, finally! Bing says Yanqi is a small place, so we have had a change of plan and we're now stopping at a bigger town called Korla. 
Once again, we had to go through three police checkpoints. Part of the route was very scenic with three ranges of mountains. The first had vegetation, the second was barren and the third one had snow on its peak. We also encountered a dust cloud that resembled a tornado!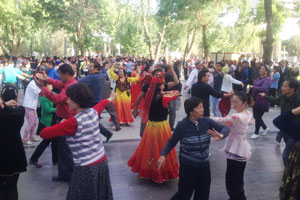 Korla is a very lively town. In the People's Square, everyone was dancing (pictured right)! Apparently, the people of both the ethnic-minority Muslim population and the local Mandarins meet in the square between 4pm and 8pm to dance. This happens every day but draws a larger crowd at the weekend. We managed to dance with some of the ladies and soon became the centre of attention! Elderly ladies came over and asked us for a dance. We found the people extremely friendly. Apparently, they don't often see many tourists here.
The pavements were lined by street vendors selling different kinds of precious stones and jewellery. Nalini would have loved it. I even managed to have my fortune read by a local Chinese fortune teller. It was quite personal, so I shall not share it with you. However, surprisingly, he managed to describe a lot of my past quite accurately.
Some of you have been texting me, asking me why I have a mark on my forehead. The other day, at the driving licence centre, I tried to go to the toilet but the stench was so bad that I had to turn around fast and make a quick exit! Unfortunately, I banged my forehead on the door frame! I couldn't have chosen a worse place to hurt myself. Thankfully, I have had every kind of jab you can think of!
On that note, I'll sign off for today!
Pharmacists on tour: part one
Pharmacists on tour: part two
Pharmacists on tour: part three
Pharmacists on tour: part four
Pharmacists on tour: part five
Pharmacists on tour: part six
Pharmacists on tour: part seven
Pharmacists on tour: part eight
Pharmacists on tour: part 10
Pharmacists on tour: part 11
Pharmacists on tour: part 12
Pharmacists on tour: part 13
Pharmacists on tour: part 14
Pharmacists on tour: part 15
Kirit Patel is chief executive of Day Lewis. Kirit; Peter Cattee, CEO at PCT Healthcare; Manvir Patel, managing director of Manichem; and Hiten Patel, managing director of PharmaPlus, will be raising money for charity Pharmacist Support. To make donations and for more information, please click here. Follow them on Facebook and Twitter to hear more about their journey