Pharmacy contractors in England have experienced unprecedented challenges in terms of workload, increasing regulation, professional and contractual requirements, and financial constraints. These are now having a serious impact on their health and wellbeing.
The link between financial concerns and health in the community needs to be better articulated and action taken to help pharmacists manage this problem. A viable solution delayed is a solution denied for those suffering from stress and financial worries.
While it's easy to express sympathy, little has so far been done to help the imperilled pharmacists who have invested life savings or borrowed money secured on their homes, often from close relatives. I have heard reports of pharmacists borrowing money by remortgaging their house or liquidating part of a pension fund to reinvest in their pharmacy.
I'm deeply concerned that some, if not all, such borrowing, is high risk. There is no five-year or even one-year plan for community pharmacy. Pharmacy owners must consider the possibility of income from dispensing spiralling down, and no new services being commissioned by the NHS to replace lost income.
If there is no or very small bottom line profits, it is time to think hard. Very hard. Objective decision making and managing emotions carefully has never been more important. The margin for – serious – error, has never been smaller.
There is going to be no financial miracle. The NHS long-term plan has confirmed this. The familiar model of community pharmacy with dispensing as the core activity is dead as a dodo.
There is a need for a decision-making tool to help pharmacists make well-considered decisions, based on reliable evidence, regarding the risk of an investment and anticipated return. I fear that many pharmacists who viewed their community pharmacy as their pension might end up with a smaller value than anticipated, or even in debt.
I'm asking pharmacists to think hard about the value of additional investment and certainty of a reasonable return before either borrowing to invest in a pharmacy or even to buy a pharmacy. 
Please consider and reconsider the following, alone and in partnership with your financial advisor. The value of investment in community pharmacies, or the income derived from them, can decrease as well as increase and you may not necessarily get back the amount you invested or are considering investing.
Hemant Patel is secretary of north-east London local pharmaceutical committee, and a member of both the National Pharmacy Association and Royal Pharmaceutical Society's English boards
What is C+D doing about pharmacy stress?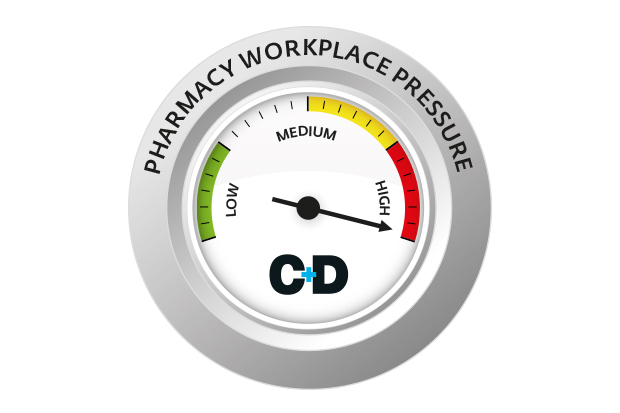 C+D created a briefing document, which was passed to England's chief pharmaceutical officer Keith Ridge by the Royal Pharmaceutical Society to persuade him of the damage stress is causing to community pharmacy. Download it, and read C+D's in-depth coverage of the data.
Let C+D know about your own experiences of stress by emailing [email protected]. Please state if you prefer your comments to remain anonymous.