Pharmacists Kirit Patel, Peter Cattee, Manvir Patel and Hiten Patel are heading overland from the UK to India by car and have reached the Russian border:




Ukraine is a country filled with stray dogs; I have never seen so many dead dogs lying by the roadside and both Peter and I were chased by dogs on separate occasions.




On Friday morning we made a 6am start to pick up Manvir from the airport. It was great to have him back! On the way to Russia, we came across a beautiful, ruined church where we stopped over for our usual picnic lunch. The supermarket we stopped at only took cash and luckily Manvir had some with him – credit cards don't go a long way in the eastern European countryside.




We decided to use the remote border crossing at the north-eastern border. The roads here seemed deserted. There were multiple potholes, which could be why the German army struggled to get supplies into Russia.




We had an open chat about the friction that was building up and re-strengthened our ground rules. Tonight we had the most harmonious dinner we have had in a week!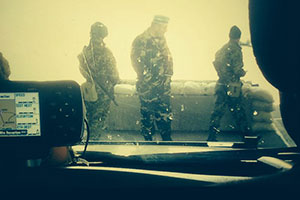 On the way we came across some activists manning roadblocks but they didn't hassle us, they were more interested in who was coming in from Russia. Near Lugansk we came across an army checkpoint with a tank hidden in the bushes, where I managed to take a sneaky photo of the armed militia (right) who let us through once they were satisfied that we posed no threat.
It was only after arriving in the Russian city of Kursk that we realised that the Home Office had put out a bulletin to avoid the area of Lugansk as there had been some fatalities in the area.
Upon arriving at the Ukrainian border adjoining Russia, we found that our car was the only vehicle around. It took them an hour to process our documents; half an hour of which was my fault. We all have two passports and upon entering into Ukraine I put my old passport in the safe, as we did not require a visa. On the way out I presented my new passport, which also had the Russian visa. The border officials were looking for my entry stamp in the passport. We didn't particularly wish to tell them that we had two passports, as it may look suspicious. Finally, I had to dig it out from my roof box – that was my penalty number four!
After this we crossed the 200 yards to the Russian checkpoint and for the two hours we were there not a single car came by. They thoroughly checked our paperwork and the car and even brought out a sniffer dog to look for drugs or explosives – we didn't dare argue with them. We could hear the Russian military carrying out exercises some distance away, though. We definitely felt a lot more at ease once we had passed this area and stopped the car on the other side of the border to call home to tell our beloveds we were safely in Russia.
That evening we had an open chat about the friction that was building up between us and re-strengthened our ground rules. Tonight we had the most harmonious dinner we have had in a week!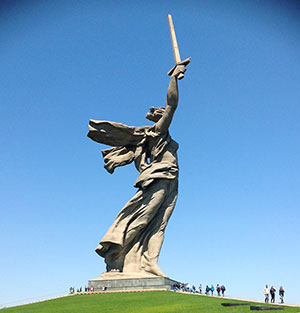 We camped the night in a Russian town approximately 50km from the border and made an early start on Saturday for Stalingrad, now known as Volgograd. Stalingrad holds bitter memories of the war, having been besieged by the German army and practically starved to death.There is a war memorial built next to the church, a huge statue named "The Mother Calling" (pictured left), which has been erected to commemorate the wounded.
On Sunday afternoon I sadly watched Liverpool lose to Chelsea in a bar while all the Russians were cheering for Abramovich's team.
We had an interesting evening at the border town of Astrakhan in Russia, where we encountered some plain-clothes policeman. At first, they were suspicious of us but when they learnt about our trip they treated us with Russian cognac and vodka and then escorted us back to our hotel! The hospitality of the Russian people has been really great.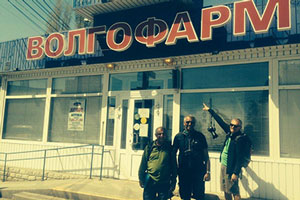 I've noticed that all the petrol stations we have visited in Russia require you to pay before filling up. Even the pharmacies serve through hatches. The picture (right) is of Manvir, Hiten and Peter outside a pharmacy. That's another one to add to the list of international pharmacies we've visited.
Today, we are staying near the Russia/Kazakhstan border, which we will be crossing tomorrow morning. Strangely, the drive to the border took us to an altitude of 90ft below sea level!
This will be my last post from Russia. I can't wait to tell you all about Kazakhstan!
Pharmacists on tour: part one
Pharmacists on tour: part two
Pharmacists on tour: part three
Pharmacists on tour: part four
Pharmacists on tour: part six
Pharmacists on tour: part seven
Pharmacists on tour: part eight
Pharmacists on tour: part nine
Pharmacists on tour: part 10
Pharmacists on tour: part 11
Pharmacists on tour: part 12
Pharmacists on tour: part 13
Pharmacists on tour: part 14
Pharmacists on tour: part 15
Kirit Patel is chief executive of Day Lewis. Kirit; Peter Cattee, CEO at PCT Healthcare; Manvir Patel, managing director of Manichem; and Hiten Patel, managing director of PharmaPlus, will be raising money for charity Pharmacist Support. To make donations and for more information, please click here. Follow them on Facebook and Twitter to hear more about their journey