Speaking to my pre-registration tutor, who works as a pharmacist in Belfast, got me thinking about how a no-deal Brexit would impact pharmacy. We chatted about how a hard border would probably make medicine shortages worse. He was worried he might lose the private prescriptions from patients that came across from Ireland.
I wondered how community pharmacies on both sides of the border would be affected by customs checks. Living in London, I now feel far removed from the experience of pharmacists working at the coal face of medicines dispensing. I wanted to ask pharmacists in person back in Northern Ireland how they are feeling about the impact of Brexit.
For my first visit, I drove 25 miles from my family home in Hillsborough, Northern Ireland to Newry, just north of the border. It was pouring down with rain, but luckily I'd packed my umbrella. I was welcomed into McKeagney Chemists by pharmacist Gareth McCabe with an obligatory cup of tea.
Although generally optimistic about the impact of Brexit, Mr McCabe (pictured below) echoed the words of my tutor in highlighting the potential loss of business if a hard border is installed. Although I've worked in pharmacies in Northern Ireland that dispensed the odd private script for patients in Ireland, I didn't realise this can be a significant chunk of their income.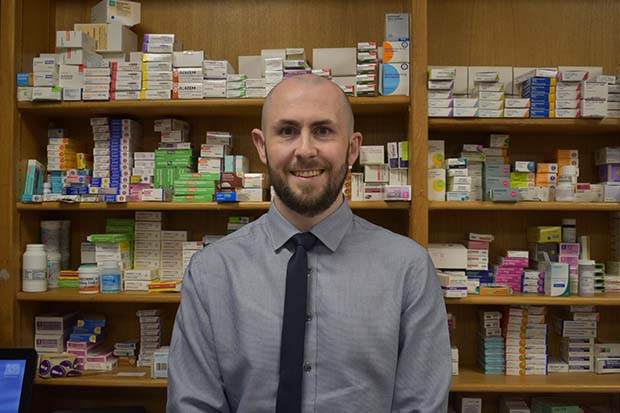 I also interviewed another Northern Irish pharmacist, who said patients are concerned about worsening medicine shortages in the event of a no-deal Brexit. With the mainstream media making the public aware of this possibility, pharmacists must handle worried patients every day who believe they may not be able to obtain their drugs.
In the afternoon, I drove 15 miles to reach the town of Dundalk on the south of the border. I didn't pass a toll or any check points – the only reason I knew I'd crossed was that the road signs' units had changed from miles to kilometres. This journey would be hindered with delays and possibly diversions should a hard border be applied.
The attitude of the three pharmacists I visited in Dundalk was very different from that of their counterparts in Northern Ireland. They bore the same weight of uncertainty that I had seen in the pharmacy professionals in Newry, but they didn't display the same strain or worry. "If it happens, it happens," one said. "We'll just have to deal with it when it comes," another said, "there's no point worrying about it."
However, I did notice that those in Ireland were concerned about a dwindling pool of locum pharmacists, who often travel from across the border. Their teams worried that if a hard border is imposed, would locums still want to cross it during their commute?
One pharmacist contractor I spoke to, Neil Tipping, commutes from Newry to Dundalk every day. He said he might have to relocate if a hard border increased his journey time either way by just 20 minutes. It's worrying to think that he would have to uproot his family to maintain his livelihood.
During my first experience of on-the-ground reporting I heard discomfort about Brexit from pharmacists on both sides of the Irish border. Ever the professionals, they are working hard to reassure patients and provide them with the best continuity of care possible.
Naimah Callachand is C+D clinical editor, contact her on [email protected] and read her feature on how pharmacists are coping with Brexit.