Pharmacists Kirit Patel, Peter Cattee, Manvir Patel and Hiten Patel are heading overland from the UK to India by car. They have now arrived at their final destination, Ahmedabad.




Day 57

In Peter's absence, I learned how to master the navigation system on my mobile. Our first stop was an impromptu visit to Ayodhya, the birthplace of Lord Rama, the seventh incarnation of the Hindu god Vishnu.




On the way into town, we were flagged down by a boy no older than 12. He offered to be our guide and started reciting the history of Ayodhya. The ladies were particularly pleased with his enthusiasm and wit. They asked that he be taken on board, so he sat next to me in the front seat.




The young chap, Ravi Pande, then proceeded to take us to the temple (pictured right), which has a long history, dating back to Lord Rama's time.

We were greeted by a hoard of Indian reporters and photographers; apparently our arrival into Gujarat had generated a lot of interest
The road to Lucknow, the capital of Uttar Pradesh, was a dual carriageway, and Hiten couldn't resist speeding up a little. I noticed he had his horn blaring all the time. Which biker, cow or water buffalo would dare hold their ground against our monster of a car, thundering down the road with horns blaring?
In the evening, we decided to treat ourselves by staying in the Taj hotel in Lucknow. It was very luxurious, especially compared to the places we've stayed on this trip. However, my patience was tested in the evening when the ladies made us sit in a sari shop for two hours while they shopped…
It was worth it in the end, though, when they joined us in the famous Dhaba-style Lahore kebab house. What an experience that was. We had to wait for over half an hour to get a table, and they were churning out people like a conveyor belt. I'm quite sad that this trip is nearing its end.
Day 58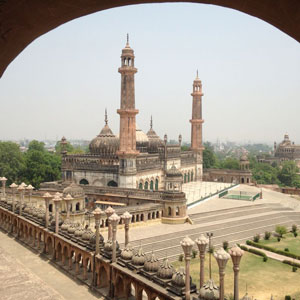 This morning, we enjoyed a tour of the city. We visited an impossibly grand Shia Muslim palace called Baba Imambara (pictured right), built by a nawab in the 18th century. The place is like a maze, not least because of its many secret passages. It was difficult to take it all in considering the temperature was 50°C.
Afterwards, we went shopping. My clothes were too warm for this climate; Indian cotton shirts were best for keeping cool. My legs, which have not seen much sunlight over the years, started to get a decent tan.
In the afternoon, Nalini used her local contacts to book us a hotel in a resort town called Orcha. The traffic was heavy and we arrived too late in the evening to see anything. The heat had exhausted us and we hit the sack early.
Day 59
The last stop before our final destination.
In the morning, we explored the remote but beautiful resort of Orcha. However, we did so from the comfort of our air-conditioned car: no one dared go outside with the thermometer topping 50°C.
Today, we decided to cover as much distance as possible and head for the city of Udaipur, one of the many places nicknamed 'Venice of the East'. This was to be our last stop before reaching our final destination, the city of Ahmedabad.
Unfortunately, we had an accident. Hiten was cruising down a motorway when a cow stepped into the road right in front of us. The poor beast felt the full impact of our Land Cruiser's bull bars. We stopped immediately, and Hiten was visibly shaken. He went over to check the cow; sadly, it had died on impact. A small crowd gathered around us, and we made enquiries about the animal's ownership. No one claimed it, so it was probably a stray.
To give Hiten a break, I took the next driving shift. It's difficult to stay focused for any length of time when it's so hot, so Manvir took over the last stint and brought us safely to Udaipur.
Day 60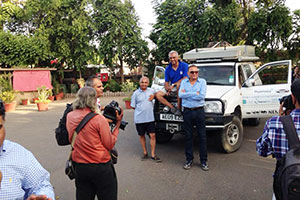 The end of our journey is nigh. We arrived in Ahmedabad at 5pm and decided to go to the Karnavati Club, where I'm a member. As we arrived, we were greeted by a hoard of Indian reporters and photographers (pictured right); apparently our arrival into Gujarat had generated a lot of interest. I have no idea how they knew where we'd be.
People were very interested in our journey and found it difficult to believe that we didn't have to travel on water at any stage of our journey. We were interviewed by the national press (pictured below right), which was exciting. Manvir remarked afterwards that even the new prime minister of India, Narendra Modi, knows we're here.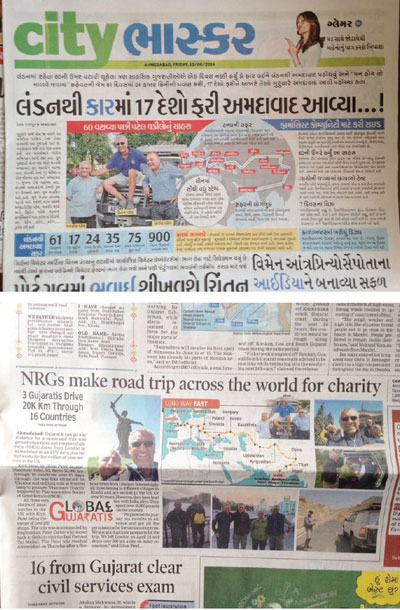 We wound down at a party that was put on to celebrate our achievement. Not long ago, our journey was only a dream. It's amazing that we've come so far.
I'm glad we've managed to arrive safely in Gujarat. Gujarat was my father's birthplace. I think about him often and I wonder what he would make of my achievement, were he alive today. I hope he would be proud.
We've faced many challenges on our journey, both internally and externally, but it's been well worth it. I'd like to thank you all for your support along the way. Your messages of support have helped us stay positive.
I'll be back home soon – I can't wait.
Pharmacists on tour: part one
Pharmacists on tour: part two
Pharmacists on tour: part three
Pharmacists on tour: part four
Pharmacists on tour: part five
Pharmacists on tour: part six
Pharmacists on tour: part seven
Pharmacists on tour: part eight
Pharmacists on tour: part nine
Pharmacists on tour: part 10
Pharmacists on tour: part 11
Pharmacists on tour: part 12
Pharmacists on tour: part 13
Pharmacists on tour: part 14
Kirit Patel is chief executive of Day Lewis. Kirit; Peter Cattee, CEO at PCT Healthcare; Manvir Patel, managing director of Manichem; and Hiten Patel, managing director of PharmaPlus, will be raising money for charity Pharmacist Support. To make donations and for more information, please click here. Follow them on Facebook and Twitter to hear more about their journey