Pharmacists Kirit Patel, Peter Cattee, Manvir Patel and Hiten Patel are heading overland from the UK to India by car and have reached the Tibetan capital, Lhasa




Day 44

I was amazed how wonderful Lhasa was, not to mention the people of Tibet. So many of them, both men and women, were walking around with prayer beads or a prayer wheel. Many Tibetans wear hats that remind me of those worn in some parts of South America.




There was an amazing hospital near our hotel, which we visited. While we were there, we decided to book a full blood test.




I won't forget what we did after our visit to the hospital. We effectively completed a 360-degree appraisal of each other. The idea was to tell each other, very openly, three things we're each good at and three things we can improve on. It was a remarkable exercise and has brought us closer together. I think we'll become better people when we go back home.




It turns out our meeting with Dick was a huge stroke of luck – or divine intervention!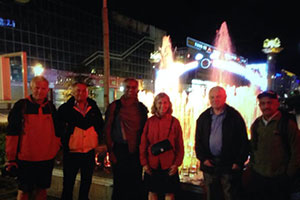 We then went off to meet Dick and Judy for dinner (pictured right), who we met the day before. There was an amazing light show (above) in the centre of Lhasa – we stopped to take it in and the views were sensational.
It turns out our meeting with Dick was a huge stroke of luck – or divine intervention! He gave us some Diamox tablets, which help combat altitude sickness. We now have enough to make it past Everest Base Camp.
Day 45
Our Chinese official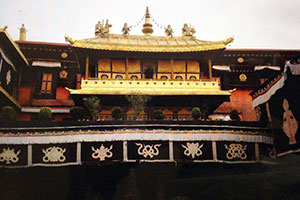 Bing took us to the ancient temple of Jokhang (pictured right), which was built in the 7th century and is one of the most important in Buddhism. It contains a statue of Buddha that was built more than 2,000 years ago. The temple was surrounded by devotees, who offered their prayers by standing then lying on their fronts more than 100 times.
I discovered today that Tibetans believe in open burials. The body is taken up the holy mountain, clearly visible from the town centre, by funeral directors who dismember it to make it easier for the vultures to take. However, if someone had a problem in the family – for example, conceiving a child – a relative can offer the body of the deceased to be deposited in the river for the fish to eat. Bing told us that only 10 per cent of people in Tibet eat fish; I, for one, will not be eating fish while I'm here…
Day 46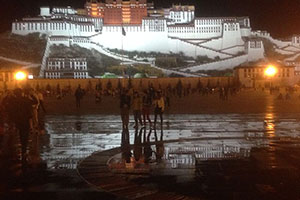 Our next trip, to the city's magnificent Potala Palace (pictured right) – formerly the primary residence of the Dalai Lama – made our altitude sickness worthwhile. The pressing concern now is Everest Base Camp. One of our oxygen tanks has totally deflated, but the other two are holding up well.
The palace dates back to the 7th century. The tombs of eight Dalai Lama – made by gold donated by the people of Tibet – are interred at the palace. The succession plan of the spiritual leader is an interesting process. The Dalai Lama writes a poem before his death, which is then deciphered by the other lamas and wise men in order to find the next guru, who is chosen in early childhood.
We've had a change of plans regarding the official end of our journey. After we cross the Indian border, Peter will be joining his wife to visit a game reserve that is home to rhinos and tigers. The rest of us will head for the Indian state of Gujarat, from where our ancestors hail. As such, our final destination point as a group will be at the Indian border on June 8.
Pharmacists on tour: part one
Pharmacists on tour: part two
Pharmacists on tour: part three
Pharmacists on tour: part four
Pharmacists on tour: part five
Pharmacists on tour: part six
Pharmacists on tour: part seven
Pharmacists on tour: part eight
Pharmacists on tour: part nine
Pharmacists on tour: part 10
Pharmacists on tour: part 11
Pharmacists on tour: part 13
Pharmacists on tour: part 14
Pharmacists on tour: part 15
Kirit Patel is chief executive of Day Lewis. Kirit; Peter Cattee, CEO at PCT Healthcare; Manvir Patel, managing director of Manichem; and Hiten Patel, managing director of PharmaPlus, will be raising money for charity Pharmacist Support. To make donations and for more information, please click here. Follow them on Facebook and Twitter to hear more about their journey