For pharmacies who are looking to increase their visibility and attract more patients, social media is a crucial and cost-effective starting point.
With so much noise from competing businesses on social media, it's important to have a plan that takes into account patient interests and your promotional goals, focusing on the platform that suits you best.
Picking a platform
The right platform, or platforms, for you will depend on your internal resources. If you operate a medium-sized chain of pharmacies and employ a marketing team, then it's straightforward to make social media part of their remit.
However, for a single-pharmacy contractor facing the daily demands of the business, it can be easy to fall behind on social media. Building visibility online requires consistency. Sticking with one platform that you know you can contribute to regularly makes more sense than tackling several with half measures.
Focus on the ones that give you the greatest reach with patients in your area – usually that means Facebook and/or Twitter, but it really depends. Where are your patients on social media? How do they like to communicate, and what are the topics they will respond to, even when they do not have an ailment?
Here is one example from an independent pharmacy on Facebook: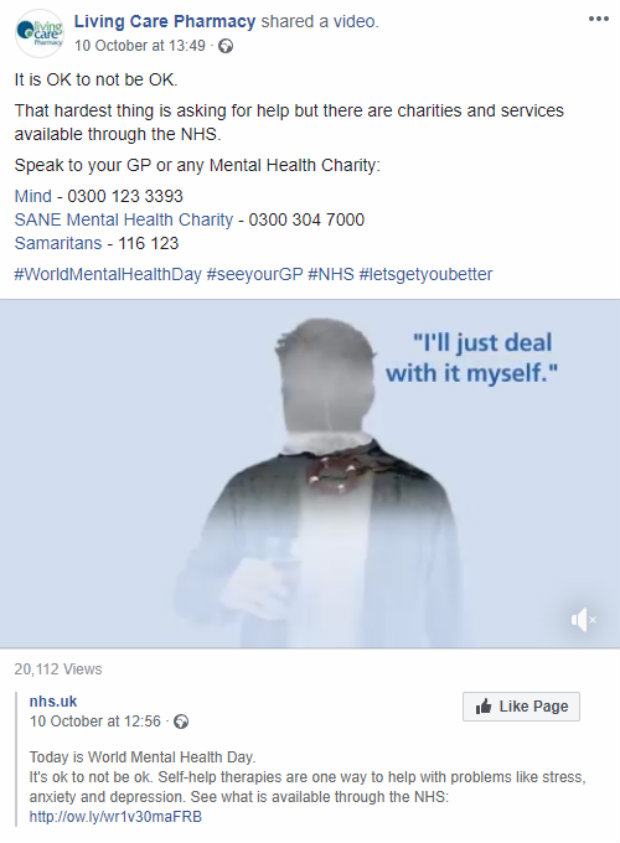 Although you may wish to build your social presence to become more visible in the profession or add your voice to debates (where LinkedIn may be the platform of choice), for many the primary goal will be to attract and engage new patients.
Responsible communications
The responsibility of pharmacists in communities extends to social media. Whoever is posting on behalf of your company has to be aware of your company policies, as well as the need to remain professional at all times.
When patients are exploring their symptoms, many will look to social media for answers. Although the instinct to give helpful advice can be strong, it's important not to give specific medical advice or compromise confidentiality.
This is because encouraging patients to visit a pharmacy or GP surgery, where they can receive face-to-face treatment, is the best response.
However, giving general advice and providing useful, actionable information is a great way to provide insight without getting into personal diagnosis. Being a neutral source of sound information is great practice.
An example from Day Lewis on Twitter: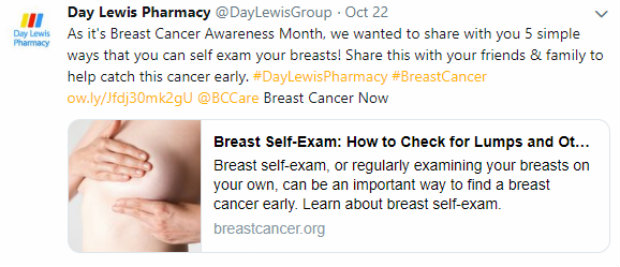 Social media can help you to be more visible than other pharmacies online. When there is a choice of stores, some independent, some part of larger chains, as well as the online-only options, it's important to give patients a reason to choose yours.
It's worth keeping this in mind when you or your staff may be tempted to be less-than-professional – don't respond to negative comments with negativity or get involved in emotional debates.
When patients have so much choice, it's the conversational tone and approachable personality evident from local pharmacies that can make a difference when it comes to who they choose to trust with their health.
Don't overdo the promotions
When it comes to promoting your brand, it's important to tread a fine line between communicating your plus points and being too 'salesy'. Ultimately, we want the public to view pharmacists as trusted clinicians. Being overly promotional can jeopardise that.
Plan your social content in line with seasonal trends and topics such as the flu jab, pre-holiday preparations and so on. This keeps it relevant and commercial without overstepping the mark.
A tweet from an independent pharmacy on medical news: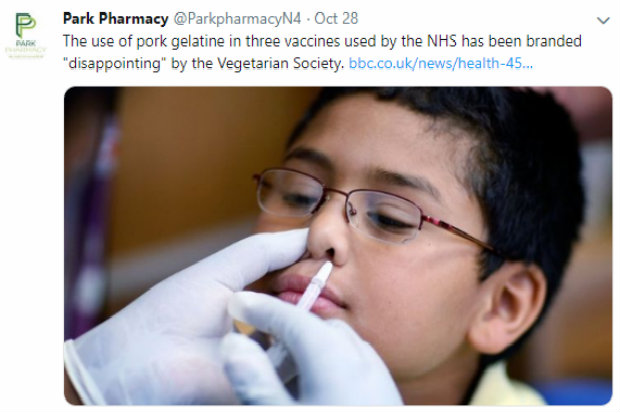 Think about paying to push ads
If you have the budget, social advertising can be extremely effective to reach your ideal audiences. Facebook and Twitter have many options for ad targeting or promotion of your posts.
For example, on Facebook you could target patients with children who are less than five miles from your location in order to promote a visit to the pharmacy – if you abide by its advertising regulations.
Checking your progress
You can check the reach of your posts with insights on a Facebook business page or the analytics section of your Twitter account.
But the greatest success is to be able to attribute new patients to your social media activity. An easy way to find out if this is happening is to ask new patients a friendly question on how they found your pharmacy.
Nevertheless, though measuring the commercial impact of activity and advertising certainly helps focus strategy, for many pharmacists, just being part of the online conversation is rewarding enough.
Martin Calvert is marketing director at Blueclaw, a digital marketing agency with a focus on increasing customer acquisition for brands