Pharmacists Kirit Patel (pictured right), Peter Cattee, Manvir Patel and Hiten Patel are heading overland from the UK to India by car and they are about to reach Everest




Day 47

Today we climbed even higher, but the course of Diamox should help. We're trying to build up tolerance for the overnight stay at Everest base camp.




A lot of the roads are under repair. Three times we had to wait to allow oncoming traffic through. We managed to arrive in Tingri just in time to buy our entry tickets for Everest base camp. The altitude where we're staying tonight is 14,250ft.




Day 48

The journey to Everest was incredible. We went past villages where Tibetan shepherds live. At the first police checkpoint, we had another surprise. Dick and Judy Hazlehurst, who we met in Llasa, were there. They were also on their way up to the base camp.

I can't imagine the trauma the climbers suffer as they walk pass the dead bodies on the way down
To our surprise, we discovered that they will be staying in the same camp as us, so we agreed to meet up that evening for dinner.
We finally caught a glimpse of the north face of Everest, in the Himalayas. As a child, I had been taught that Sir Edmund Hillary (a New Zealander) and Sherpa Tenzing Norgay (a Nepali) were the first people to reach the summit.
On arrival at the base camp, we found our yurt, which was to be our home for the night. There is a viewpoint 4km away that allows a clear view of the summit. We decided to go there, even though we were told that the mountain peak had not been visible for a couple of days.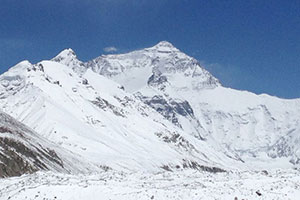 Near the viewpoint we came across many tents of expedition teams attempting to climb to the top of Everest (pictured right). I was told that there is an unwritten code among the mountaineers that if someone is struggling, then the rest of the expedition has to carry on and leave that person behind. More than 10 per cent of people attempting this trek die every year. Apparently, it's too dangerous to try and rescue someone who is struggling. I was told that more than 50 people died on the mountain last year. I can't imagine the trauma the climbers suffer as they walk pass the dead bodies on the way down. Sadly, Everest becomes their burial ground.
After dinner it was getting really cold so we all went to bed early. None of us had gone to the toilet and I was praying I didn't have to wake up in the middle of the night, as the temperature was in the region of -10oC. I had my oxygen bag by my side, for an emergency, and crept into my sleeping bag with three layers of clothes.
Day 49
During the night there was thunder and lightning. Poor Hiten had to visit the toilet at 5.30am in these conditions.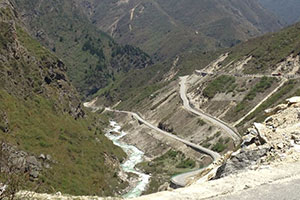 In the morning, we decided to drive down the mountain (pictured right) to find a hotel with facilities. The weather changed dramatically as we descended. First, we had snow showers and then it became very tropical at 6,000ft onwards. Many of the roads had been covered up by falling rocks but there was just enough space to creep by.
In the evening, we arrived at the border town of Zangmu. The town has only one street with one end at least 1,000ft higher than the other. It reminds me of Quito, the capital city of Ecuador. Kathmandu is only 120km from here, but we don't have a permit for our car to cross into Nepal until tomorrow morning.
Day 50
Today was our last day in China. We were all ready to leave for the border at 10am, to go to the customs office.
When we arrived at the office, we had to complete a series of three immigration checks.
These papers then had to be notarized by a senior official who unfortunately had decided to take a day off. It turned out that today and tomorrow were a holiday and the main customs office was only open for three hours before it shut for two days.
We cleared the second immigration post to enable us to go to the main China Gate, near the Friendship Bridge. Here, we would wait for the documentation that Bing was arranging to be signed. Poor Bing was tearing his hair out. He had to send someone to the official's house to get the papers notarized. He miraculously pulled it off.
Finally, we were cleared to leave China. We all gave Bing some hugs and said our goodbyes. I will miss him.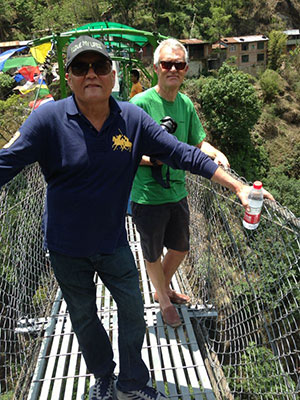 We had to walk over Friendship Bridge (pictured right, Kirit and Peter), which connects China and Nepal, while Peter drove across its 200-yard span. Once again, we needed clearance to bring the car into Nepal. We had to find a local broker who understood how to do this. It was amazing how we managed to jump a queue of about 200 lorries also waiting to cross.
Unluckily for Hiten, a Chinese immigration officer caught him taking sneaky photos of the border guards for the fourth time during our journey. The Chinese guard came over and made him delete every photo on his camera. He is lucky he still has his iPad.
The journey to Kathmandu was only 120km, but it took us in more than five hours. I was surprised to see the roads were so bad, considering it's a major crossing into China. The bus and lorry drivers were overtaking around the bend on this treacherous road. We had to take turns driving just to familiarise ourselves with driving on the left-hand side of the road.
The Indian border is only two hours away but we have decided to wait for our partners to join us in Kathmandu for a few days to relax and unwind. The culture here is so Indian that I can't tell the difference between the two countries. It feels as if we have nearly arrived at our final destination.
We have been discussing what to do with our customised Land Cruiser, once our journey ends. Should we sell it in India, ship it back to the UK or leave it in India, from where we can drive it further east on another trip? We don't necessarily have to do it together. In a few days' time, we shall have to decide…
Pharmacists on tour: part one
Pharmacists on tour: part two
Pharmacists on tour: part three
Pharmacists on tour: part four
Pharmacists on tour: part five
Pharmacists on tour: part six
Pharmacists on tour: part seven
Pharmacists on tour: part eight
Pharmacists on tour: part nine
Pharmacists on tour: part 10
Pharmacists on tour: part 11
Pharmacists on tour: part 12
Pharmacists on tour: part 13
Pharmacists on tour: part 14
Pharmacists on tour: part 15
Kirit Patel is chief executive of Day Lewis. Kirit; Peter Cattee, CEO at PCT Healthcare; Manvir Patel, managing director of Manichem; and Hiten Patel, managing director of PharmaPlus, will be raising money for charity Pharmacist Support. To make donations and for more information, please click here. Follow them on Facebook and Twitter to hear more about their journey