Pharmacists Kirit Patel (pictured right), Peter Cattee, Manvir Patel and Hiten Patel are heading overland from the UK to India by car and are now in Nepal




Day 53

We decided to spend half a day sightseeing and then return to Kathmandu, as my wife Nalini and the other ladies were due to fly in this afternoon.




We visited the Phewa Lake in the Pokhara valley. I was excited to see lots of paragliders jumping off one of the nearest mountains, which was at least 1,500m high.




I am a bit of an adrenaline junkie and I just couldn't resist having a go, so I persuaded Mani and Hiten to join me and we dived off the mountain. We managed to fall into a thermal, which took us a mile back up in the air. It was exhilarating.

I'm a bit of an adrenaline junkie and I just couldn't resist having a go
I have skydived from 10,000 feet in Australia, been paragliding off a hill in Rio (on a glider), but this was the first time I have dived off a mountain with just a parachute.
On the way back to Kathmandu, we found the roads were treacherous and all of the drivers we passed were driving very recklessly. I know I'm in safe hands because Peter, our No.1 driver, is at the wheel.
I can't wait to see Nalini, as it's been nearly two months since we last met.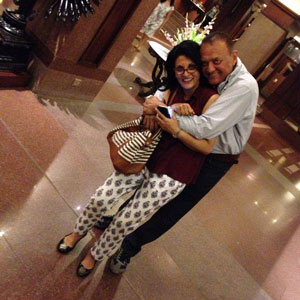 When we arrived at the hotel, Nalini, Hema and Ragini were waiting outside. Nalini ran over to hug me (pictured right). She was excited to see me. No doubt Hiten and Manvir were also catching up with their loved ones.
Tonight, we went for dinner at a nice restaurant called New Orleans. Later, when we got back to the hotel, we all ended up in Hiten's room, staying up to tell our wives about all of our travel adventures. I am looking forward to spending tomorrow with them. It will certainly make a nice change.
Day 54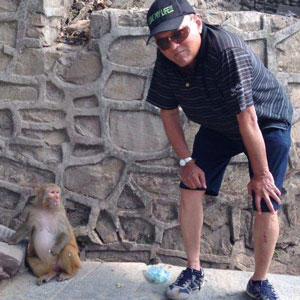 Today, we visited Nagarkot. We went to see a Buddhist monastery, located 5,000 ft up a hill. It is called Monkey Temple and it certainly lived up to its name (pictured right).
On the way back, it was my turn to drive. I had to follow another car in heavy traffic and I scored a lot of good points. Everyone complimented me on my driving and I think I may have jumped up two places, to be the second best driver.
We have an early start tomorrow, as we will be going whitewater rafting.
Day 55
The journey was more than three hours, on rough, man-made roads over the mountains. Driving in Tibet is challenging, as there are absolutely no rules. It's scary, especially when we're driving with steep cliff-faces on one side and sometimes no safety barriers on the other.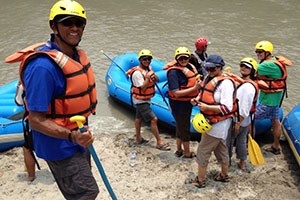 Once we reached the river, I was very impressed by the safety equipment and the training given by both of the boat masters on the rafts (pictured right). The journey was set up so that six rafts would leave together as a group. This was for safety reasons.
It soon proved to be a wise decision. At one grade-four rapid, three of the rafters were thrown in the water. Our boat captain told us to row harder, so we could rescue one of them. The other two were good swimmers and were picked up by their own raft.
In a section where the river was calmer, I jumped in and just drifted along with the boat.
Tomorrow, we have an early start at 4.30am as we have booked a mountain flight to fly us over the range of mountains, including Everest.
Day 56
As you may know, I don't do early mornings very well. Nalini had to drag me out of bed at 4 am, as the flight over the Himalayas was scheduled for just after 6am. The weather was not clear and so we had to pass our time at the airport. The flight finally departed an hour later, only to come back down after half an hour: the weather had worsened.
The airline offered to fly us the next day, weather permitting, so it looks like we have another early start tomorrow. Our journey to India looks like being delayed by a few hours. Fingers crossed that we make it over the border in time.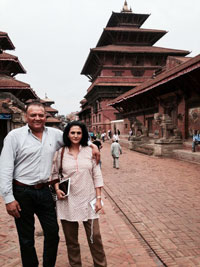 In the afternoon, we visited the old square (pictured right).
Day 57
Wow! That is the only way to describe how Everest looked when we finally broke through the clouds. It was worth the wait.  
This was supposed to be a treat for the ladies and to show them how far up the mountain we had driven. The air hostess organised for us to go into the cockpit and that's where I received my first aerial glimpse of Everest, which the captain kindly pointed out. I was thrilled to see the north face of Everest from the top. I felt a shiver down my spine, just thinking of how cold I had felt that night up in the Everest base camp.
We now have to make a dash for the Indian border, to make up the lost time. We will probably reach the holy city of Varanasi a day later than planned.
The exit out of Nepal was seamless even though the journey was long. The people in Nepal are the friendliest I have met so far.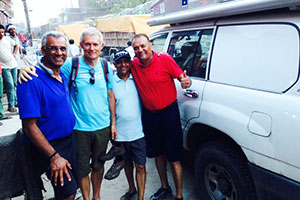 The crossing into India was also relatively easy. We had finally arrived at our destination after eight weeks' travelling. It was sad to say goodbye to Peter (pictured right), who is now off to spot tigers and rhinos in a game reserve.
Mani, Hiten and I, with our lovely wives, are now heading down to Gujarat. I took the first stint in driving in India. It was not a very pleasant experience, but I'll tell you more about that tomorrow.
Pharmacists on tour: part one
Pharmacists on tour: part two
Pharmacists on tour: part three
Pharmacists on tour: part four
Pharmacists on tour: part five
Pharmacists on tour: part six
Pharmacists on tour: part seven
Pharmacists on tour: part eight
Pharmacists on tour: part nine
Pharmacists on tour: part 10
Pharmacists on tour: part 11
Pharmacists on tour: part 12
Pharmacists on tour: part 13
Pharmacists on tour: part 14
Pharmacists on tour: part 15
Kirit Patel is chief executive of Day Lewis. Kirit; Peter Cattee, CEO at PCT Healthcare; Manvir Patel, managing director of Manichem; and Hiten Patel, managing director of PharmaPlus, will be raising money for charity Pharmacist Support. To make donations and for more information, please click here. Follow them on Facebook and Twitter to hear more about their journey