Pharmacists Kirit Patel (pictured right), Peter Cattee, Manvir Patel and Hiten Patel are heading overland from the UK to India by car and have reached China




Day 31 The day didn't start well. As there was no bathroom we had to wash outside with cold water and, to make matters worse, Peter and I exchanged some harsh words regarding a trivial matter. We managed to clear up our differences and apologised to each other.




We were scheduled to meet our Chinese official at 12.30 in the afternoon at the China Gate, which is the main immigration entry point. To confuse matters further, China is two hours ahead of the local time in Kyrgyzstan, which meant we had to leave the farmhouse at 5.30am. I don't do early mornings very well, so I wasn't surprised that I blew my fuse!




It was my turn to drive today and the route to the China Gate was incredibly beautiful. The countries are dissected by a range of mountains and you have to go over numerous peaks to get to China. At the highest point we peaked at 12,500ft; at 6,000ft our packet of crisps blew up like a balloon!




At 6,000ft our packet of crisps blew up like a balloon
We were the first ones to arrive at the Kyrgyzstan border at 7.30am and found it shut but the guards opened the gates at 8am and let us through. After completing the necessary departure documentation, we arrived at the first of the Chinese border posts and had to wait again as it was closed and due to open at 9am. How any country can shut their borders at night baffles me!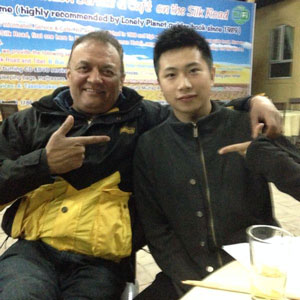 'Not something that we were expecting!'
The car had to be driven on to an inspection pit where eight officers thoroughly checked the entire vehicle. We were then asked for the Chinese version of our car registration document, which is not something that we were expecting! When we explained that we were being met by the official responsible for our documentation at the main China Gate (some 70km away), they asked for the official - whose name is Bing (pictured right) to come over. However, it took him an hour and a half to come through the snow with our paperwork!
On our arrival at the China Gate there was total confusion and it took us a further seven and a half hours to clear immigration. On reflection, we have all come a long way. If anyone had ever said to me that I would one day drive all the way to China, I would have said: "Not all the tea in China would get me to drive there!"
Well, it has been quite a challenging experience, both externally and among ourselves. We have organised to meet our partners in Kathmandu on June 4 to join us for the last leg of our journey from Nepal to India. I can't wait to meet up with my wife Nalini. I have found that despite all the hard experiences, the most difficult one has been taking care of myself and I never realised how dependent I have become on her in my personal life.
Day 32
We woke up late and missed the 9am cut-off for breakfast. Our Chinese official Bing was in a rush to take us to the vehicle and driving licence centre as we had to have a Chinese driving licence as well as our car registered with Chinese authorities, a Chinese number plate and road tax. Halfway through the process, having obtained everything we needed, there was a power failure.
We killed time in the car park eating lunch and playing frisbee. Eventually, at 5pm, they asked us to come back the next day as the lights still had not come back on in the whole province.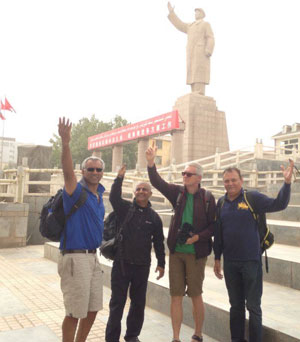 We spent the evening in Mao Square, posing in photos like great leaders (pictured right) and then went and cashed in all our dollars as foreign credit cards are not accepted.
I had my first lesson in being abused by salesmen. A tuk-tuk driver charged me 50 renminbi for a kilo of mangoes – that is $9. Later on we were offered mangoes for one fifth of the price!
The toilets in Eastern Europe may have been pretty foul but the Chinese ones are worse – either open-air or communal.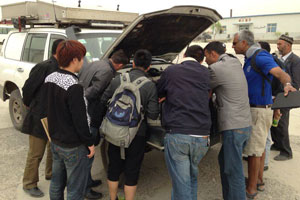 Our vehicle was the centre of attention. Some people even asked us to open the bonnet (pictured left) so that they could have a look. Nowhere else has our car attracted so much attention!
For the next 21 days our friend Bing is travelling with us and I am glad we have him as our guide and interpreter. China is not an easy country to navigate if you don't know how. All the road signs are in Chinese and without him we would probably end up in Beijing!
Pharmacists on tour: part one
Pharmacists on tour: part two
Pharmacists on tour: part three
Pharmacists on tour: part four
Pharmacists on tour: part five
Pharmacists on tour: part six
Pharmacists on tour: part seven
Pharmacists on tour: part nine
Pharmacists on tour: part 10
Pharmacists on tour: part 11
Pharmacists on tour: part 12
Pharmacists on tour: part 13
Pharmacists on tour: part 14
Pharmacists on tour: part 15
Kirit Patel is chief executive of Day Lewis. Kirit; Peter Cattee, CEO at PCT Healthcare; Manvir Patel, managing director of Manichem; and Hiten Patel, managing director of PharmaPlus, will be raising money for charity Pharmacist Support. To make donations and for more information, please click here. Follow them on Facebook and Twitter to hear more about their journey