With the announcement in October that pharmacists will not receive mental health support like doctors and dentists [under the NHS Practitioner Health expansion], I wasn't surprised in the slightest. Doctors and dentists are valued by the government. A hub-and-spoke system can't remove teeth, and doctors are in short supply already.
Pharmacists are seen as disposable commodities. Machines can take over the dispensing, and the Department of Health and Social Care is on a mission to shut us down. They don't value the contribution we make, so why should they look after our mental health?
The irony of it is it's the community pharmacists who deal every day with patients' mental health. We are the ones who try so hard to be available to worried patients. We don't have an appointment system, and we are within reach on the high street.
Our stressors are increasing daily, our funding is stagnant, and the pressures on us are immense. To be honest, I don't actually care about a phoneline I can ring when I'm stressed. I need to run my business with funding, and the phoneline isn't going to provide that.
Slowly, the demise of community pharmacies will leave big, artificial stores on the high street. More communities will be left isolated, with only apps to talk to.
Mental health problems among patients are on the rise and such visions of pharmacy closures pushed by our government will further exacerbate the issues. If our already overstretched mental health services get worse, no one will be able to turn back time on the consequences.
The Contractor is an independent pharmacy owner in England
C+D takes pharmacy pressures to parliament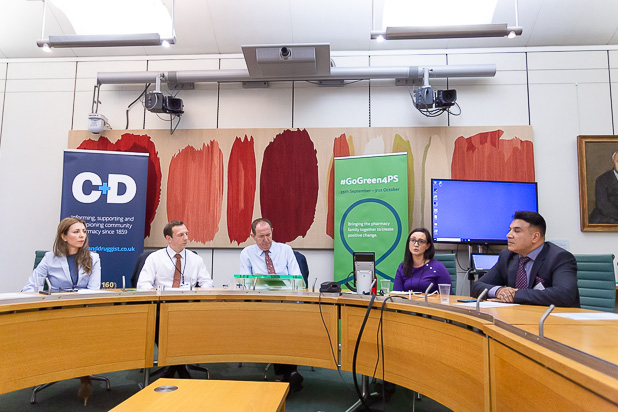 In September, C+D and the charity Pharmacist Support brought together MPs, pharmacy representatives and pharmacists to discuss the rise of stress and workplace pressures among pharmacy teams.
The parliamentary event took place in Portcullis House, Westminster, and was hosted by all-party pharmacy group chair Sir Kevin Barron MP.
If you would like to share your experiences, please email [email protected]