Is £36,000 a year really that bad? I asked myself this question as I read C+D's Salary Survey 2019 results. The survey found that the average salary for a second or non-manager community pharmacist is £36,768. This is an increase of £773 from last year's results, which is pretty good.
It's good that there's been a pay increase in the sector on par with inflation. Not all industries can boast that. More importantly, the increase in salary isn't from one generous employer sharing out excess cash – employers across the board are paying more for pharmacists of all kinds.
In the survey, 57% of all non-manager pharmacists reported a salary increase over the past year – although admittedly half of these pay rises were just by 1%. That's fabulous, and long may it continue. However, 46% of them were dissatisfied with their salary. This is completely understandable, as working in community pharmacy has changed a lot. Dispensing items and giving advice has always been a part of the job, but the sector as a whole is experiencing large fiscal changes.
Our funding structure is changing from one based on remunerating pharmacies for volume of dispensing, to rewarding those who provide clinical consultations and services. The problem is that pharmacies are struggling to embrace the shift towards focusing on services, as most of a pharmacist's time is spent dispensing medicines.
At a time of reduced staffing levels, pharmacists must still ensure that dispensed medication is correct, so they spend a large portion of their time completing tasks that bring in a reduced revenue for the pharmacy. If contractors are struggling to pay landlords, suppliers, pharmacy technicians and dispensers, they may not consider increasing their pharmacists' salaries a priority.
Some of the largest employers in the sector recently proposed an apprenticeship scheme for pharmacists that worried a lot of people, myself included. Are pharmacists that rare and expensive to keep that we need a drastic change in training? Or are employers simply reacting to changed remuneration packages that are causing them to innovate to keep their businesses viable and profitable?
Either way, pharmacists still have power. Some are leaving the community workforce in favour of roles in other primary care settings, like GP surgeries. They have the power to decide where they work, and hopefully what kind of pay they want in exchange. If pharmacists truly want to see a salary increase, perhaps they should demonstrate to their employers how invaluable they are to the company's bottom line and profit margin.
As the year comes to a close, and more people reflect back and consider how 2020 can be better, heightened stress in the sector greatly concerns me. Seventy-four per cent of community pharmacists reported high stress levels in 2018. The damage that this is having and may continue to have should not be underestimated.
To have 74% of pharmacists working with high stress levels is of grave concern for all stakeholders. Patients, colleagues, employers, the general public and friends and family of stressed pharmacists are being adversely affected.
Stress not only negatively impacts a person's physical health, but also their mental wellbeing. We can't accept 74% of pharmacists having high stress levels – it is unsustainable and unhealthy. Good mental health has been highlighted by the NHS as an area of increased importance in our society, which is long overdue and needed, but where is the help for healthcare workers?
We're all aware of the increase in mental health problems among the general population, and we're aware of the continued increase in stress levels of dispensers, technicians and pharmacists. However, there does not seem to be any support system in place to help pharmacy staff.
High stress levels in pharmacy isn't a new problem, but it's an issue that has remained. To all appearances, it isn't being effectively addressed by any representative or regulatory body. Pharmacist Support is a great organisation, but is there anything else? Is the onus for change solely on the individual pharmacist? Are inadequate staffing levels and their consequences not the responsibility of employers and industry regulators?
The General Pharmaceutical Council (GPhC) recently stated that enforcing mandatory staff levels would harm rather than help the industry. But what can the GPhC do to help pharmacists who are stressed because of the increased workload caused by poor staffing levels?
Increased stress levels for pharmacists could risk public safety, either because they mean pharmacists don't have enough time to consult with patients, advice is omitted when medication is dispensed, or dispensing errors go unnoticed.
I love the practice of community pharmacy. I find it depressing that high stress levels and difficult working conditions have become the norm. I want every pharmacist to work in conditions that enable them to enjoy working and perform their roles and care for patients well.
We live in a society that teaches us that the more we earn, the more valued we are. So when a salary increase is reported, that is normally a good thing. However, this year 46% of non-manager pharmacists said this year they were dissatisfied with their salary. This may reflect the opinion that the work carried out by pharmacists is more than the value of their salary. Pharmacists could be saying that increased stress levels should be compensated with increased pay. That is a fair and logical assumption.
The question I posed at the start of this blog was: "Is a salary of £36,000 a year really that bad?" The uncomplicated answer is "no". We have seen an increase of pay among second and non-manager pharmacists over the past year, and that is ultimately a good thing.
However, it will only continue to be a good thing if stress in the industry is reduced and people feel valued and well-compensated for their work. I want to see pharmacists rally together to put pressure on our representatives and help us deal effectively with high stress levels.
I also want to see pressure applied to the government to remunerate us well for dispensing and providing services, so pay across the whole sector can further increase. Simply put, something must be done about stress. It cannot keep rising with no action being taken. Pharmacists offer high-quality, free health advice to so many people every day, but our own health is also important.
We all want to work in a secure environment knowing we're looked after physically and mentally, with salaries that reflect the education and level of work we put in. Work must be carried out to ensure that this happens for every working pharmacist.
Kate Adjei works a locum pharmacist.
The C+D Salary Survey 2019 – the largest UK survey of community pharmacy, and the biggest in the survey's 12-year history – ran between October 1 and November 14 and was completed by a total of 2,556 pharmacists and pharmacy staff. C+D's ongoing coverage from the survey can be found on our dedicated hub.
Search through pharmacist roles on the C+D Jobs website.
C+D takes pharmacy pressures to parliament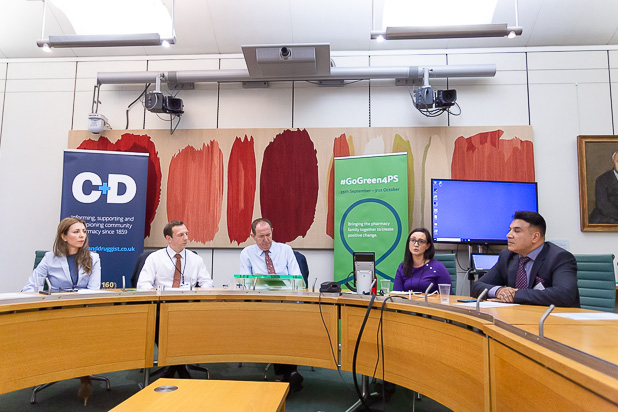 In September, C+D and the charity Pharmacist Support brought together MPs, pharmacy representatives and pharmacists to discuss the rise of stress and workplace pressures among pharmacy teams.
The parliamentary event took place in Portcullis House, Westminster, and was hosted by all-party pharmacy group chair Sir Kevin Barron MP.
You can read C+D editor James Waldron's address to the event – in which he highlighted disturbing data from C+D readers about the extent of pressures in pharmacies – as well as the key points from each speaker.
If you would like to share your experiences, please email [email protected]