And we're off! The most important bit of kit for our 17-country journey from England to India is our 4x4, a Toyota Land Cruiser (pictured below), which has been customised and adapted specifically for this journey to include:

A reserve fuel tank that gives us an additional 50 per cent, in anticipation of long distances with nowhere to refuel
A security cabinet to keep all personal possessions and documents secure
A satellite transmitter, embedded on the top of the vehicle (we have not taken a satellite phone for security reasons and to avoid unnecessary attention)
An awning that has been attached to the back seat for shelter
A fully fitted picnic kitchen, including a cooker
A table and chair to set up while on the road.




We will have to travel directly through Ukraine – and into Donetsk, which is central to the current political unrest
Considering that we will be spending every day with each other in this confined space, people have been asking how we will manage to stay positive and avoid conflict. On the first day, we established the following ground rules:
Everyone has a voice
Decisions will be made democratically
We must respect each other's needs
If anyone breaches these rules, the penalty words "code red" will be issued.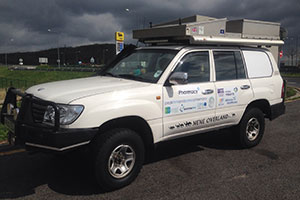 Admittedly, I picked up two penalties on the first day for questioning whether Manvir would be too short to see over the steering wheel or reach the pedals. My punishment was a day-long driving ban, which particularly hurt, as I was rather enjoying the absence of a speed limit on the autobahn in Germany. I didn't really mind, though, as I was recovering from the celebrations of Liverpool's victory over Man City, which we had managed to catch in Hannover.
We had driven there along the tip of Holland and on to Brussels after taking the Eurostar through the tunnel to Calais. The next stop was Berlin, where we were told the story of the concentration camps. We were so moved that we have decided to take a detour to Auschwitz in Poland.
Up next is Prague. The temperature there at the moment is only 6C during the day, so we will not be camping on this occasion, but rather staying in a home.
The route
We now have a clearer idea of the route we will take to India, although this may yet change as the journey progresses. The safer route we had hoped for – via Turkey and Azerbaijan – is not viable: we would have to cross the Caspian Sea by a freight ferry that has no scheduled time of departure, which could result in us waiting to cross for up to six days. This would cause a major delay to our trip, which we cannot risk due to the strict time frame given to us by Chinese officials to cross into China.
We cannot travel south of the Caspian Sea into Tehran due to existing threats of safety in this region. We would like to take the alternative route we had planned, but it has been extremely difficult obtaining visas for Belarus.
All of which means we will have to travel directly through Ukraine – and into Donetsk, which is central to the current political unrest. With Russian tanks camped near Ukraine's eastern border, we will be driving anxiously.
Pharmacists on tour: part one
Pharmacists on tour: part three
Pharmacists on tour: part four
Pharmacists on tour: part five
Pharmacists on tour: part six
Pharmacists on tour: part seven
Pharmacists on tour: part eight
Pharmacists on tour: part nine
Pharmacists on tour: part 10
Pharmacists on tour: part 11
Pharmacists on tour: part 12
Pharmacists on tour: part 13
Pharmacists on tour: part 14
Pharmacists on tour: part 15
Kirit Patel is chief executive of Day Lewis. Kirit, Peter, Manvir and Hiten will be raising money for charity Pharmacist Support. To make donations and for more information, please click here. Follow them on Facebook and Twitter to hear more about their journey