I developed a liking for the paintings of Edward Hopper while living in Manhattan.
Seduced by the charisma and colourful love life of Carrie Bradshaw and co, as well as being newly single after a disastrous relationship with Mr Big Professor, I grabbed the opportunity of a faculty position at a New York medical school with both hands.
Not long installed in my Upper East Side apartment, with two well-travelled cats and a steadily accumulating pile of takeaway sushi boxes and Little Brown Bags, I rapidly came to realise that Manhattan is one of the loneliest places in the world to live. An enchanting city of transients, runaways, fortune hunters, aspiration, disillusionment, the fabulously rich and the hopelessly poor, there is no city like New York. The gulf between visiting and living there was immense.
The paintings of Hopper perfectly depict the loneliness of Manhattan: ordinary folk in bars, the tension between couples, disinterested companions, a girl sat alone in a laundrette. If these paintings have a soundtrack, it is Simon and Garfunkel's Sounds of Silence.
I came to identify with all of these scenes, not only because they represent New Yorkers, but also because they captured how I felt: looking through windows from the street, in lamp-lit, rain-soaked darkness, they create the perception of being on the outside, looking in. Hopper's paintings are masterpieces of people-watching, which we all do in an attempt to assimilate our lives with the imagined lives we observe. We wonder: what are their stories? How did they get here? Are they happy or sad?
A Hopper painting that may particularly resonate with pharmacists is Drug Store, a painting of a street-corner pharmacy with a broad billboard advertising the stimulatory bowel confection Ex-Lax. This is the sort of pharmacy that induces comfort and nostalgia in many of us: old-fashioned, traditional. As the name of the establishment informs us, behind the plate-glass window and wooden fixtures lies Mr Silber, who I'm sure is a sage, independent proprietor pharmacist.
It might be said that we are all in a Hopper painting, either as the subject or as the invisible people-watcher, wistfully observing from the street. We often think we know what people are thinking, whether it is our fellow pharmacists or our patients. But how many of us really know what is going on in people's heads? How quick are we to make assumptions, to notice only the surface detritus, rather than the muddy pool that lies beneath? To disregard the raw nerves and complex history of our fellow man in favour of lazy assumptions made on the basis of an annoying complaint from a patient or a perceived snub from a colleague?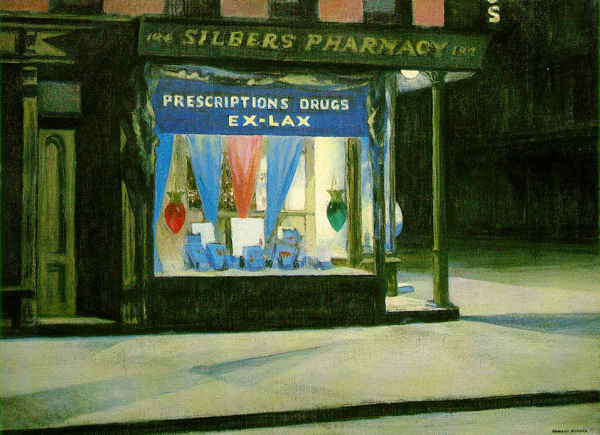 Parallels in Israel
Last year, I found myself in Israel in the middle of the Gaza conflict. Pharmacy in Israel is at once a success story and a huge leveller. Arab citizens of Israel have been able to achieve a decent level of social mobility via the profession and now constitute around 45% of the profession, compared to 20% of the population.
One evening, with a blinding headache, I went in to a pharmacy on the main drag in Tel Aviv. As I usually do when I'm abroad, I struck up a conversation with the pharmacist. I noticed that he had a surname common to "the triangle", a cluster of mostly Arab villages in the Sharon plain.
I wondered how he was dealing with the crisis and the understandable emotional conflict that must exist when your state is engaged in hostilities with your cultural brethren. I asked him how he was doing, and he told me without prejudice: "Well, you know, it's a living. But I wanted my own pharmacy. It's all multiples now. I'm on my own here and my rates are down."
I laughed and told him he would hear exactly the same in the UK. In fact, he would hear an identical story from pharmacists 6,000 miles away in Manhattan, where my interest once got me into a slanging match with a fellow customer who was harassing a pharmacist for referring his purchase of drain cleaner to the grocery area of the store.
So, all I can say is this: be careful of making assumptions about people. We can watch and learn, but mostly they are the same as us. One night we might be out on the street looking in, the next we might be central to the commotion. Most importantly, don't make assumptions about difficult patients or rush to accuse them of disrespecting our noble profession. They are part of their own Hopper painting, too.
Rachel Airley is community pharmacy research champion with the Clinical Research Network, Greater Manchester. Email her at [email protected]

When has pharmacy challenged your perceptions?
We want to hear your views, but please express them in the spirit of a constructive, professional debate. For more information about what this means, please click here to see our community principles and information