Pharmacists Kirit Patel (pictured right), Peter Cattee, Manvir Patel and Hiten Patel are heading overland from the UK to India by car and have reached Tibet




Day 42

We're now into the seventh week of our tour. Last night we checked into a small village in Tibet, the only one for miles, situated at more than 15,000ft above sea level.




It brought back memories of last year, when I camped at 14,000ft while climbing Mount Kilimanjaro in Kenya. On that occasion, the oxygen level had been so low that every time I dozed off I woke up gasping for air. I was convinced I'd suffocate in my sleep, so I sat up all night, leaning against my rucksack, listening to my music and practising yoga breathing.




I had to borrow some Tiger Balm. I smelled like a pharmacy shop
I thought that experience would prepare me this time around. However, moments after I'd fallen asleep, I woke up gasping for air. I tried sleeping in every position I could think of and reminded myself to think positively. I knew I wouldn't die, but I still couldn't sleep a wink. I decided to read to take my mind off my shallow breathing. I had a pretty rough night and for the first time on the trip I was ready to leave at 6am.
To my surprise, I found that Mani, Hiten, Peter and even Bing hadn't slept either. Peter has felt terrible all day. The worrying thing is that we have four more nights at similar altitude on our way to India, Everest Base Camp being the most daunting.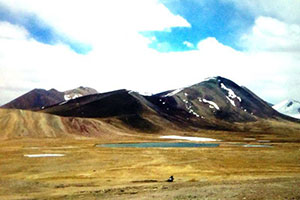 Our journey to Amdo (pictured right) – the north-eastern region of Tibet – was breathtaking, but none of us were in the mood to enjoy it. We barely managed to stay awake, but we made it there by late evening. On the way, we had to endure altitudes in excess of 17,000ft, which didn't make driving any more pleasurable; we had to switch driver every hour.
On arriving at the hotel – the only one in the town that allows tourists to stay – we were told to report to the local police station in order to get permits to stay the night. We really needed to get a decent night's sleep, so we hired oxygen concentrators (with nose pipes and all).
We've all lost our appetites now and we're suffering from severe headaches. I can't wait to get to the Tibetan capital, Lhasa, which is at a slightly more bearable altitude.
Day 43
Another horrible night.
None of us could sleep, although our oxygen concentrators provided some comfort. My nostrils were getting blocked and I had to borrow some Tiger Balm from Mani – I smelled like a pharmacy. Peter had a cold and came out worst of the lot.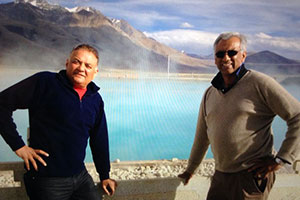 Bing had already suggested that we skip our planned overnight stay at a nearby lake and descend a little further to the next town, Yangbajing, which is famous for its hot springs (pictured right). Since we were all so tired, we decided to take 35-mile driving shifts. It was extremely hard to concentrate. The route was scenic, but we were in no mood to take it in.
We finally arrived at the hot springs in the evening. To my amazement, we were still 14,000ft above sea. There was no way I was enduring a third night of agony, so I asked Bing how longer it would take to get to Lhasa. It turned out that the city was an hour and a half further down the mountain, so we decided to go for it.
However, when we tried to leave, the police at the outskirts of the town said our permit only allowed us to travel on the following day. We had to explain, via Bing, that we couldn't take the altitude anymore. Luckily, they issued us with new permits.
The journey was tough. I had to take the first driving shift and I nearly dozed off before I'd done 20 miles. It didn't help that everyone else had fallen asleep. I pulled over and asked Hiten to take over. When it was Mani's turn, he dozed off at the wheel and crossed over the middle of the road into the path of an oncoming lorry, just managing to pull back in time. It was getting pretty scary. Fortunately, Peter had recovered by then and he brought us down safely to Llasa by 9pm.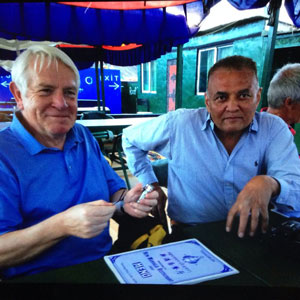 In the evening, we told Bing we wanted to eat anything but Chinese food for dinner. He suggested a place called Lhasa Kitchen. I had just ordered a beer when I heard someone call my name. I turned around to find an English couple at the adjoining table, both of whom were retired pharmacists and were amazed to find us there. Dick Hazelhurst (pictured right) and his wife, Judy, had come over from China on the highest railway in the world, the Qinghai-Tibet Railway, which runs next to the road we had driven across from China.
That night, given the altitude, I was worried I might get so wound up that I wouldn't sleep for the third night running. However, I'm glad to report we slept well. I promised myself I'll never take sleep for granted again.
We're debating how we're going to sleep at Everest Base Camp – which we need to cross at a height of 17,000ft – without any altitude medication. We'd bought three inflatable bags at the last town, filled them with oxygen and tied them to the roof of our car, but one of the bags has started to deflate. We doubt we'll have any left for our journey to the Everest Base Camp in a few days' time.
Pharmacists on tour: part one
Pharmacists on tour: part two
Pharmacists on tour: part three
Pharmacists on tour: part four
Pharmacists on tour: part five
Pharmacists on tour: part six
Pharmacists on tour: part seven
Pharmacists on tour: part eight
Pharmacists on tour: part nine
Pharmacists on tour: part 10
Pharmacists on tour: part 12
Pharmacists on tour: part 13
Pharmacists on tour: part 14
Pharmacists on tour: part 15
Kirit Patel is chief executive of Day Lewis. Kirit; Peter Cattee, CEO at PCT Healthcare; Manvir Patel, managing director of Manichem; and Hiten Patel, managing director of PharmaPlus, will be raising money for charity Pharmacist Support. To make donations and for more information, please click here. Follow them on Facebook and Twitter to hear more about their journey