Independent pharmacists and their business issues can sometimes feel like a world away from their corporate competitors – but that's not to say there aren't useful lessons to be learned from the multiples about attracting more customers.
More than this, independents have some advantages of their own that larger companies can't copy, particularly when it comes to techniques to raise the ranking of your website as it appears on a search engine.
Store layout, customer experience and brand
Perhaps the most straightforward marketing tactic that independents can adopt is actually more to do with customer experience.
Large retailers, pharmacy chains and others put enormous amounts of research into planning their shop layouts. Item locations are planned to maximise sales and drive impulse purchases.
Though an independent pharmacist may not be able to launch a massive research campaign of their own, there's nothing to stop you from taking a structured and deliberate look at how the giants of the industry plan their stores, and take notes for your own product layout.
Whether you realise it or not, the branding of major chains creeps into your brain – the blues of Boots, the greens of Lloydspharmacy, as well as their logos and typefaces. These are the visuals you unconsciously expect when you walk into one of their stores.
For independent pharmacies, it's a little harder to build this type of familiarity, and therefore trust, with customers. But it is worth pursuing.
Whether you adopt a consistent visual identity – through lighting, staff appearance or packaging – it's important that customers build a relationship with your brand. This is the basis of loyalty and repeat business.
A commitment to digital
By learning from major brands, pharmacies can also use digital marketing as a leveller. This is clearest when it comes to local search engine optimisation (SEO).
Local SEO is the discipline of increasing your pharmacy's visibility for internet searches by people in your area who have an 'intent to buy'. For example, a search for "chemist Manchester" is likely from someone who wants to buy products from a pharmacy in Manchester.
You should therefore aim to get into the 'three pack' of businesses that appear in the box at the top of Google results for a local search, such as: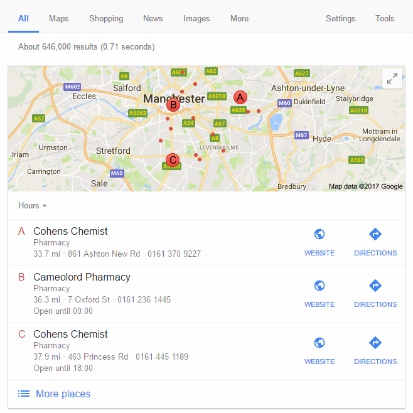 Being included on this list is the important part, and there are two key steps to help make it happen:
Complete your Google 'My Business' profile
Your My Business profile is the central location for Google's knowledge about your pharmacy. Maintaining a profile means that you're giving Google the information it needs to categorise your pharmacy, as well as display features such as reviews, opening hours, pictures and more.
Earn links to your site
Having links to your site from other reputable sites with a local connection to the areas in which you operate allows search engines to understand and categorise the products you offer, and to show you as a great local company with a brick-and-mortar location.
Make sure that whenever you are featured in the media, a link to your site is always included. If you reach out to earn links in publications and blogs, your site will benefit, along with the visibility of your location in local SEO.
While major brands do invest heavily in digital, they are often weaker when it comes to local SEO, due to them having less scope to show search engines their connections to specific local areas.
As a result, independent pharmacists can compete effectively to increase visibility and attract more customers.
In this and other areas of marketing, the key is for you to apply learning from the major brands where it helps you, but also to recognise where you can have advantages based on a personalised service, local connections and a better customer experience.
Martin Calvert is marketing director at Blueclaw, a digital marketing agency with a focus on increasing customer acquisition for brands