When you think about a refit for your pharmacy, it looks great in the brochures. Glossy pictures of happy, smiling staff serving happy, smiling middle-class patients – in no way representative of the average people in a typical pharmacy.
Where are the ranting psychotics? The smelly and dishevelled results of a small and stagnant gene pool? Or the attention-deficient kids who have a safeguarding risk from me, never mind their parents.
We used to serve behind counters, and dispense inside separate rooms with a door or just a hatch to the chemist counter. Now, in this touchy-freely world of accessibility and interactive consultation skills, we are up close and personal with everyone who comes into the pharmacy, and that's not always a good experience.
So, my question is: do you feel safe at work?
As I write this, I'm trying to keep an eye on a young couple. She has the look that used to be termed 'heroin chic' and he is accessorising a voluminous coat – on this warm summer day – with several half-empty bags.
I wish I could chuck them out and lock the door so I can concentrate on work, but it seems you can't even lock them out, since we've been broken into twice in the last three months.
Starting with a call from the alarm company at God Almighty o'clock in the morning, I arrive to find someone smashed through the front door. Desperate or high – or both – they tried to break the metal bottom panel, which held, so chucked a brick through the glazed top. The loss of fifty quid's worth of stock leaves us with a £3,000 bill for a new door and being boarded up for six weeks.
Then, barely a month later, our nice new door is subject to a full-blown ram raid. The use of a car meant a buckled metal door that we couldn't open. It was three hours before we could enter the pharmacy, and for the first time in 17 years – having battled floods, power cuts, vandalism and staff illness – we couldn't open on time.
This preceded four hours of arguing with insurance and emergency repair companies as to who would pay for what, and for a while it looked as if no one would help or affect a repair, despite the ever-increasing premiums we pay.
So, I didn't need a C+D crime investigation to tell me that I'm at risk, and it didn't say that I'm equally at risk of being ripped off by our insurance company and their accredited charlatans.
At least the police attended and investigated our break-in. But a greater wrongdoing going unpunished is that being practised by the Department of Health and suppliers, over drug pricing such as pregabalin and quetiapine.
Both are making big savings and big profits, yet it seems no one can do anything about this particular daylight robbery.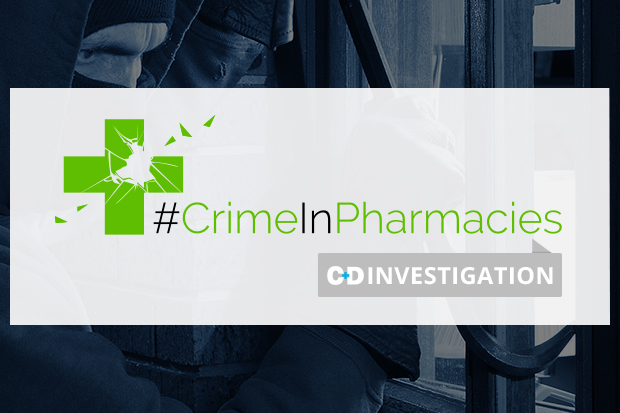 Check out C+D's interactive map to see the extent of crime in pharmacies in your area, and let C+D know if you have experienced a crime in your pharmacy by emailing [email protected]