What sort of pharmacy do you own or work for? No, I'm not talking about multiple or independent, because recently I've been made aware of two other classifications. The question to ask now is: "Do you work in an 'easy money' pharmacy or a 'quality services' pharmacy?"
This arose from my fundraising for Pharmacist Support, the charity that provides help and support to pharmacists in times of need. I wrote a C+D blog about the emotional challenges of community pharmacy that highlighted the continuing need for Pharmacist Support.
Not only was I overwhelmed by the generosity of readers who contributed to my Just Giving page, but the blog had another unexpected effect – an out-pouring of acknowledgement and comment on Twitter about the stress and pressure of our work.
Within the 280-character limit of Twitter, people wrote passionately of the causes of their stress. The usual suspects were named: staffing, targets, pharmacy cuts, financial challenges and the new contract. I identified with one commentor who described how the pressure of work impacted their compassion and patience, with emotional withdrawal being the only way to survive with sanity intact.
As I recognised the truth of this in myself, they continued with an even more damning comment about our profession: "Empathy with customers is the unique selling point for pharmacy…but this understanding slowly disappears along with compassion and patience, knowing what work is piling up in the dispensary."
I continued reading comments from other colleagues and that's when another theme emerged that presented a dichotomy between the 'easy money' pharmacy and the 'quality services' pharmacy with debate around the merits and sustainability of both.
The 'easy money' pharmacy was characterised as a business model concentrated on maximising return by sourcing the cheapest generics and parallel imports, while the 'quality services' pharmacy model prioritised patient needs and strived for clinical risk reduction, seeking improved outcomes for all. Both descriptions are extreme generalisations, with each regarded differently according to your point of view.
Contractors know that the 'easy money' pharmacy no longer exists and hasn't for the last four years, no matter what buying efficiencies the proprietor may indulge. Meanwhile, our commissioning bodies seem reluctant to acknowledge that the 'quality services' pharmacy exists, believing instead that the fat cats who own 'easy money' pharmacies need to be bled and squeezed until the pips squeak. The Pharmaceutical Services Negotiating Committee appears to suspect both that the 'easy money' pharmacy is long gone and fears that 'quality services' pharmacies have yet to arrive!
If it is true that there's now no profit in dispensing, then the 'quality services' pharmacy model must be the only way forward. Quality, however, will have to come cheap because there's also not a lot of money in our five-year contract to pay for all these highly trained and qualified staff unless, of course, someone manages to come up with an 'easy quality' pharmacy.
A long-running C+D contributor, the identity of Xrayser remains a mystery, but his irreverent views are known by all. Tweet him @Xrayser
C+D takes pharmacy pressures to parliament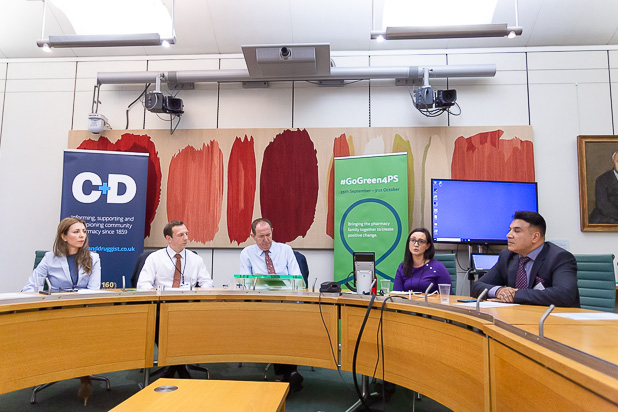 On September 9, C+D and the charity Pharmacist Support brought together MPs, pharmacy representatives and pharmacists to discuss the rise of stress and workplace pressures among pharmacy teams.
The parliamentary event took place in Portcullis House, Westminster, and was hosted by all-party pharmacy group chair Sir Kevin Barron MP.
You can read C+D editor James Waldron's address to the event – in which he highlighted disturbing data from C+D readers about the extent of pressures in pharmacies – as well as the key points from each speaker.
If you would like to share your experiences, please email [email protected]