'Pharmacists, don't suffer your depression in silence like I did'
In a heartfelt article, community pharmacist Harpreet Chana explains the toll depression and insomnia took on her personal and professional life – and why she now helps others
Mental illness has been a hot topic for a few years, hugely publicised by the young royals, footballers and pop stars who have all come forward to open up about their own struggles with mental health. And yet, for the wider public and for us pharmacists, there is still a huge stigma associated with admitting how bad things really are. As healthcare professionals, we tell ourselves that it is our job to look after the sick, we can't be sick ourselves.
In all the roles where I have worked closely with non-pharmacists, it has almost been a badge of pride that "us pharmacists never take sick days, unless we are on death's door". This comes from knowing first-hand how much chaos not having a pharmacy manager turning up for work can cause, for the whole team and for the patients. Not to mention the way your line manager would treat you for having caused that chaos.
It is for precisely this reason that I am writing this blog. As National Pharmacy Association digital programme director and the person who, from the exterior, seems to be the least likely to suffer with her mental health ("but you're so bubbly and enthusiastic!"), I wanted to tell some of my story to encourage others to also come forward, rather than suffer in silence, like I did. I also want employers to create environments and cultures where pharmacists feel able to be honest about their mental health and to ask for help.
And so, here goes… I was first diagnosed with "exam anxiety" during my A-levels. While I sat in the GP's office with my mum as he handed over a prescription for temazepam, even before I knew about the addictive nature of benzodiazepines, I knew that I would never take these tablets to help me sleep. I'd get through it, I was 'strong', I didn't need tablets. Other than my mum, I told no one about this because I didn't want people to know that I couldn't cope.
Fast forward a few years, I got through my A levels okay and my first few years at university, and then I reached third year. I lost a close family member and bang, that anxiety came back with full force. Again, I was offered medication, and again I refused. This time, however, I required some help to overcome the symptoms and so I diligently waited. A year later I received six sessions of cognitive behavioural therapy (CBT) from the NHS.
It helped, but sadly, as is the case with most people who suffer with mental health issues, it wasn't quite enough. My therapist was saddened about having to leave me to 'go it alone', but her hands were tied. Again, I told no one about this. My line manager at the time knew I had been to an appointment, but never talked to me about it, and I didn't offer any information. Why? Because I didn't want her to think I was 'weak'.
Fast forward to my first few managerial roles in community and my underlying 'worrisome' nature coupled with the stress of running a busy branch with demanding staff and patients resulted in insomnia. But I thought nothing of it. How many of us have struggled to get to sleep, or woken up in the middle of the night worrying about whether we got that prescription out that absolutely needed to go out today? Or because we were worried about a potential dispensing error we may have (but more than likely have not) made? Or the fact that we didn't make our medicines use review sign-up quotas this month and would be called out by the regional manager?
I told myself that it was 'just stress' and a bit of an occupational hazard – all pharmacists are perfectionists, so this worry was 'normal'. Some of my colleagues knew I suffered with "bad sleep", but I never alluded to how bad it really was. Because insomnia is so common, I thought people would think I was over dramatising. So, I kept quiet and hoped it would just go away.
And it did come and go. I was given sleeping tablets that I took only on really bad days – a pack of 28 lasted me over six months. But the minute things at work became too much work, which they often did as I would take on far too much and lacked the ability to say "no", it would come back with a vengeance. And that's the thing about long-term stress and insomnia: left unchecked, it can quickly turn into something more sinister.
Why? Because the impact on your body and mind of only sleeping one or two hours a night four to five times a week seriously brings you down. You can't function, you can't focus and you use every ounce of strength you have to ensure every script that leaves is accurate, that every word you write is accurate. By the end of the day, there is nothing left over for you or your personal life. You have no energy for exercise, you crave bad food for the sugar highs, and you quaff cold tea and coffee all day long. I was renowned for microwaving my tea in the dispensary. Four times for the same cup is a record I am not proud of.
I carried on this way for some time, through several different roles. Over time, the feelings of 'being down' seemed to grow. I didn't just wake up one day and feel depressed, it came on gradually. I couldn't find joy in anything I was doing, but I carried on doing it anyway. Every morning, I woke up and I just couldn't face getting out of bed to start the day but I did. Because I'm a pharmacist, a professional, and we don't let anyone down.
I went to the GP, who offered me antidepressants, but I refused. I was the one who gave these out to the sick, what would it mean if I took them myself? Would I also be taking them for life, like so many of my patients? I was so scared of what my family, friends and co-workers would think, because I didn't want people to think of me as depressed, I didn't want that label or to be defined by my inability to cope with life and work.
And so, instead, I put on my mask, plastering a smile on my face to hide my true feelings, and carried on with my day, being the life and soul of the workplace. At weekends, I would lie in bed in tears, unable to find the strength to put on my mask. My poor husband was unsure how to respond or help me. The truth of it was, he couldn't help.
By then, the patterns of negative thinking and my inner-self talk had become so bad that I just blamed myself for being that way. For being weak and unable to cope with life like all of my friends and colleagues. I would ask myself: "What the hell is wrong with me?". The answer I used to give myself is so abusive and awful that I won't write it here. The reality is, I would never in a million years say what I used to say to myself to any other human being, yet did it in my own head on a daily basis.
I told very few people about how I was feeling and told no one how bad it really was. On the outside, I had a great life: a good job, a nice house, a nice car, a lovely husband and a beautiful son. What right did I have to be depressed? But I was. Speaking to yourself in this manner over a period of time is so damaging to your self-confidence and self-esteem that there really is no other alternative. I internalised every situation I was in and made myself out to be the bad guy, because that's what depression makes you do.
Things came to a head three years ago, when I genuinely thought about ending my life just to get away from my own head. You tell yourself that it's the only way out and, because you feel so helpless, you believe it. It was then and only then that I finally gave in and started taking medication.
I saw a couple of counsellors and a CBT therapist. While they worked on the cause of my illness, they couldn't help me change my thinking or the way I handled stressful situations. That came through coaching. With the help of an amazing mindset coach, I was able to change my outlook and my perspective on life.
After only 12 months of sessions, I was able to come off the tablets. One year after that, I began working towards my own certified professional coaching qualification with iPEC, which I achieved in January.
I now run the Mental Wealth Academy, offering training, coaching and attitudinal assessments, because I am so passionate about helping others to not succumb to mental illness and, unlike me, open up sooner about what's really going on for them, so that they get the help and support they need to change their own behaviours and thought patterns.
Sometimes, of course, mental illness can only be rectified by the rebalancing of a chemical imbalance – through medication. But I am living proof that by building confidence, resilience and better inner-communication, it is possible to feel in control.
That statistics that C+D and Pharmacist Support shared at the recent parliamentary event on workplace pressures were just staggering. More than 60% of pharmacists surveyed by Pharmacist Support said they need support with stress at work and 78% said mental health was a major issue facing the profession.
I wonder how many of these respondents are actually suffering in silence right now, like I used to? Not able to admit to anyone, including themselves, about how bad things really are for fear of what people think and how they will be viewed by their colleagues and patients? I hope that by opening up about what happened to me, I can at least use my experience to encourage others to do the same.
Since I've started talking openly about my own illness, I haven't had a single negative comment. Instead, I've been shocked by the messages of support and encouragement I have received from friends, family and colleagues alike. If any of what you have read resonates with you, I would urge you to please reach out. Either to your employer, to organisations like Pharmacist Support or even to me. I wouldn't ever want anyone to feel the way I did a few years ago. If through C+D, Pharmacist Support and other organisations highlighting the real issues we face every day, we can save even one individual from suffering alone, then we have done our job.
Harpreet Chana is director of The Mental Wealth Academy and NPA digital programme director. She will be speaking about mental health at The Pharmacy Show, as well as the Royal Pharmaceutical Society's Women In Leadership event and its annual conference.
For support and advice on mental health and wellbeing, visit the Pharmacist Support website here. For specific stress and wellbeing support, contact the charity's 'Listening Friends' scheme here.
C+D takes pharmacy pressures to parliament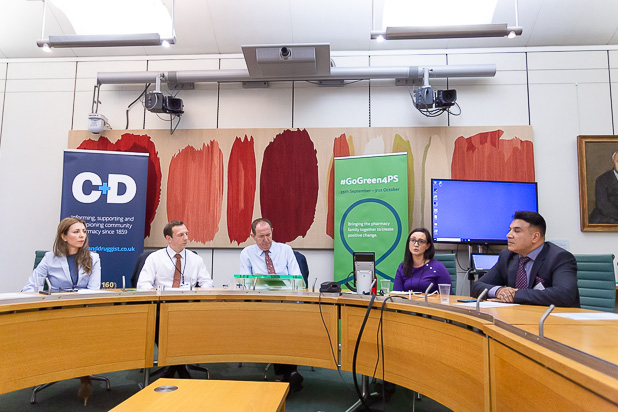 On Monday (September 9), C+D and the charity Pharmacist Support brought together MPs, pharmacy representatives and pharmacists to discuss the rise of stress and workplace pressures among pharmacy teams.
The parliamentary event took place in Portcullis House, Westminster, and was hosted by all-party pharmacy group chair Sir Kevin Barron MP.
You can read C+D editor James Waldron's address to the event – in which he highlighted disturbing data from C+D readers about the extent of pressures in pharmacies – as well as the key points from each speaker.
If you would like to share your experiences, please email [email protected]