Xrayser: I've felt like sobbing in the dispensary at times
Stress can do funny things to a pharmacist, but it is no laughing matter, which is why Xrayser is raising money for Pharmacist Support and giving you the chance to win a mug
The first time I was in a mental institution was at the age of 18. I'd left home to read pharmacy at a university in London and ended up in an institution simply referred to as the "St Pancras Mental Hospital". After more than 30 years the details are a little blurred, but I remember long white and cream wards that seemed far removed from the frenetic hustle and bustle of the capital city. I also remember sitting on a firm hospital bed with its crisp white sheets, visiting my friend and fellow pharmacy student who had been admitted a few days previously.
"Stress," the hospital staff had said. Six weeks into his first term, the stress of leaving his support network of friends and family at home combined with the social and educational challenges of the degree had exacerbated an underlying mental illness. Funny what stress can do to you.
By funny, I don't mean the tales we've all heard: the area manager walking into a dispensary to find the pharmacist sobbing on the floor; the locum who wouldn't get out of their car in the car park; the bottle of brandy in the controlled drugs (CD) cupboard long after the last script for a Brompton cocktail was ever written.
By 'stress', I include long hours of shift work,100-hour contracts that have put a strain on so many relationships, and the endless chasing of medicines use review and other performance objectives. These generate conflict between health professionals, meaning high-risk drugs may be overlooked for a quick and easy signature to make that week's target.
I've never sobbed in the dispensary, although there's times when I've felt like it. I've not poured myself a shot from the CD cupboard or anywhere else at work – although many nights I've got home and reached for the wine. Sometimes it's been the workload, sometimes financial worries, sometimes the isolation that comes with responsibility.
So, I applaud the work, services, and impact of Pharmacist Support – an independent charity working for pharmacists, their families, former pharmacists and pharmacy students to provide help and support in times of need. My own support network of friends and family means that I've not yet drawn upon its services, but I recognise its need and importance.
That's why some weeks ago I set up a Just Giving page to raise money for Pharmacist Support. Everyone who donates is put into a draw to receive one of 100 limited edition, not-in-the-shops, "I am Xrayser" mugs! There's still time to donate.
As for my friend in St Pancras, he went on to complete his degree and registration a few years later. I am reassured that should he feel the stress again, he and many others can turn to Pharmacist Support – with the support of pharmacists like you and me.
Pharmacist Support is raising money to support pharmacists in an annual campaign with the hashtag #GoGreen4PS from September 25 until October 31
C+D takes pharmacy pressures to parliament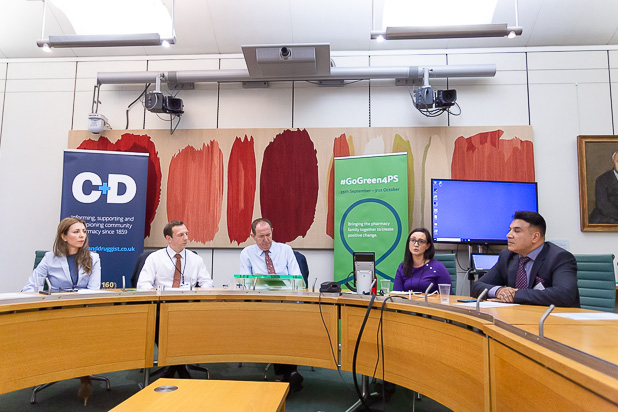 On September 9, C+D and Pharmacist Support brought together MPs, pharmacy representatives and pharmacists to discuss the rise of stress and workplace pressures among pharmacy teams.
The parliamentary event took place in Portcullis House, Westminster, and was hosted by all-party pharmacy group chair Sir Kevin Barron MP.
You can read C+D editor James Waldron's address to the event – in which he highlighted disturbing data from C+D readers about the extent of pressures in pharmacies – as well as the key points from each speaker.
If you would like to share your experiences, please email [email protected]