Why I left the UK for life as a pharmacist with the military
How did a C+D job advert land pharmacist Kat Darby on a military base in Germany?
If it wasn't for a C+D 'job alert' email, Kat Darby could still be in the UK, juggling an NHS hospital career with regular weekend stints in a community pharmacy. Instead, she applied for the job "on a whim", and is now lead pharmacist at a pharmacy at Rochdale Barracks in Bielefeld, north-west Germany.
Luckily, her instinct turned out to be right. "[It was] the best possible career choice I could have made, both in terms of the experience I have had here and the people that I work with," she tells C+D.
Ms Darby (pictured below) – who is not employed directly by the armed forces – qualified as a pharmacist five years ago. After three years in UK hospital pharmacy, she began work for SSAFA GSTT Care, a partnership between the armed forces charity SSAFA Forces Help and Guy's and St Thomas' Trust , which is contracted by the British Forces Germany Health Service to provide primary, community and secondary healthcare.
"I was attracted to the opportunity to work abroad, while still practising in English," she recalls.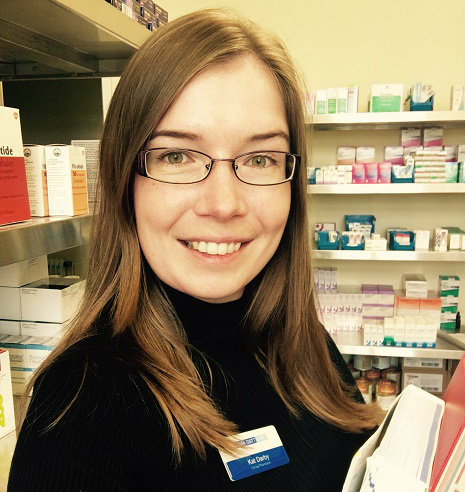 Military deployments
Unlike your average community pharmacy, working as a pharmacist for the military means most patients are relatively young and physically fit. "We don't have many elderly patients, so there is no requirement for us to dispense monitored dosage systems or to supply care homes, as you would in the UK."
Instead, the team has the challenge of ensuring "safe and swift" treatment of soldiers being deployed overseas, often at short notice and to dangerous locations – and in large groups.
"It is up to us to ensure there are enough vaccines, antimalarials and regular medications to cover large numbers of deploying troops for long periods of time," she says.
Because of the nature of their patients' work, the pharmacists have to keep in mind potential effects of any medications dispensed. For example, certain drugs mean personnel must be medically downgraded while they are taking them, which may mean they can't undertake certain duties, such as driving heavy duty vehicles or handling weapons.
On the positive side, Ms Darby enjoys how "many of our patients have extremely interesting jobs and great stories to tell".
The pharmacy team "builds an excellent rapport with them", she says. "It's also great to be a support to the families of serving personnel, who can often find themselves alone for long periods of time, in a new country."
Supply and procurement
Working overseas, as opposed to a military base in the UK, presents major challenges around procurement, Ms Darby explains.
"We still source our stock through UK supply chains, and the average lead time is around two weeks. This sounds like a lot, but we have become used to it, and it means our technicians have honed excellent provisioning and planning skills," she says.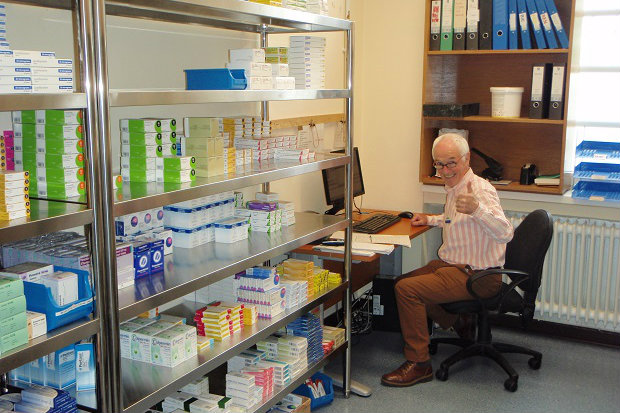 The pharmacy has much bigger storage facilities than a typical UK community pharmacy, to ensure they can hold between three to six months of stock on the shelf, something "unachievable" for most community pharmacies. The reason for the large stock is that "it just takes bad weather or transport problems for our weekly delivery to be delayed."
The pharmacy is "constantly planning ahead, and our stock rotation and rationalisation is of utmost importance, to avoid wastage".
If the pharmacy does not have a product for any reason, Ms Darby will purchase it locally from a German community pharmacy (or 'apotheke'). "It adds an extra dimension to our patient counselling when this happens, and we work closely with our German colleagues 'outside the wire' to ensure equivalency between the UK and German products," she says.
There are many similarities between working with the military and working in a 'civilian' community pharmacy, she believes. "The focus is still entirely on the delivery of excellent patient-centred care, and on making the pharmacy a welcoming hub in the community. The bread-and-butter dispensing work would be easily recognisable to any UK community pharmacy team."
Staff shortages
But if you think that working for a military community overseas might be an escape from funding cuts, think again.
"It has been an extremely challenging 12 months in the British Forces Germany Health Service," says Ms Darby. "The drawdown in troops has meant we have lost 50% of our pharmacy team to redundancy and postings." Despite this, there has been "little drop in the workload", resulting in increasing pressure for the remaining team members.
Ms Darby says they have pulled together, and shown "grace and tenacity under extremely pressurised conditions".
"Despite short-staffing and long hours, the pharmacy staff have never allowed patient care to suffer – they have always performed their duties with a smile, and utmost care and attention to the patients."
"A fantastic challenge"
Ms Darby would "definitely" recommend working in a military environment. "This has been a fantastic challenge, and I have learned so much from it," she says.
A strong team ethos is a big part of the role's appeal. "We have a very strong multidisciplinary team here, and the pharmacy contribution is requested and listened to. We are regular attenders at various medical committees and organisational meetings, and we take a proactive approach to providing support, training and teaching to other healthcare professionals," she says.
She appreciates how closely the team gets to work with the doctors, nurses and other members of the healthcare workforce. "In UK community pharmacy, it was a constant struggle to get through to a GP to discuss prescriptions. Here the prescribers are actively seeking our advice and ideas, and we have a great working relationship," she says.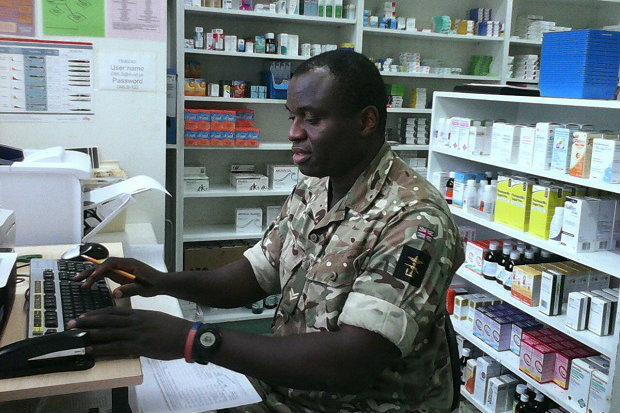 Ms Darby's "wonderful" team includes technicians, dispensers, and drivers. "We have a mix of uniformed [military] and civilian technicians. All of our technicians trained in the NHS, with previous specialities ranging from medicines management to aseptic production. All of them have specific skills and experience that they bring from their previous employment, and some have been out here for as long as nine years."
Ms Darby's uniformed colleagues are "an invaluable resource, as they are often able to offer the insight into the finer details of military life", she stresses.
Some team members are married to serving military personnel and can be sent to a new location every two years. "We make every effort to give as much training as possible to our staff, to assist them with finding new pharmacy jobs when they are posted so frequently," she says.
Heading home
With the drawdown of UK troops in Germany underway, the team will come home over the next few years.
"Most of the team plan to come back to the UK and use the masses of skills and knowledge they have developed out here to land some exciting new jobs," says Ms Darby, who starts a professional doctorate in pharmac at the University of Portsmouth in October.
She envisages a future role in which she can help to close the gap between primary and secondary care, and bring pharmacists from both areas together, to learn, develop and utilise their skills in the most effective way possible.
Her experience with the military has taught her that "a well-organised and educated pharmacy workforce is a force to be reckoned with". "It's time to end the hospital/community divide once and for all."
What's a typical day in a military pharmacy?
Ms Darby says there is no typical working day. "That's what I love most about this job – every day is different."
Generally she spends mornings clinically checking, final checking and answering queries from patients and prescribers.
Afternoons are usually spent on more complex enquiries, management activity, and doing advisory work – such as authoring patient group directives, policies, and future plans.
"Because we are a small community, I have the opportunity to be involved in every aspect of pharmacy service design and delivery, from the day-to-day running of pharmacy, to the higher-level strategic planning for the service in future."
Thinking of a career change? Search hundreds of pharmacy positions on the C+D Jobs site